Tangent Online 2013 Recommended Reading List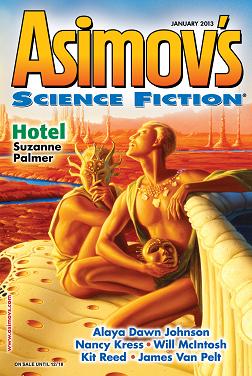 As with previous years, this list is not meant as comprehensive, there being several items we were not able to acquire and there are always the few stray stories published in non-traditional venues which we did not see. As was the case last year we narrowed our focus (with rare exception) to those stories published in professionally paying markets as defined by SFWA (5c/wd.). While SFWA has changed its pro-market requirements for 2014 to 6c/wd. we will continue to cover those markets paying the former rate of 5c/wd.
As is our custom, there are four sections to each length category. Those making the list in the short story, novelette, and novella lengths but having no stars, and those with either one, two, or three stars, according to how well the reviewer or reviewers valued a particular story. Quite often you will see more than a single reviewer's initials following a given entry. We have placed the story in the category receiving the most stars. Thus, it is possible that while one reviewer placed a story on the list without any stars, another also placed it on the list but with one or more stars, thus elevating that story to the higher ranking. Where there are more than one reviewer's initials following a story recommendation, they appear in no particular order, thus making it impossible to determine which of the reviewers provided this higher ranking. Conversely, it is also possible that each reviewer held the same opinion of any given story.
There are 421 stories on this year's list: 303 short stories, 100 novelettes, and 18 novellas, up 165 from last year's total of 256. I suspect a fair measure of this substantial increase is due to our having seen many more original anthologies this year than last. If a story is placed in the wrong length category, please let us know and we'll be happy to correct the oversight. Reviewers are free to place stories on this list from any of their reading during the year, and are not restricted to those venues covered here, nor to publications they have personally reviewed.
If you would like to review for Tangent Online, knowledge of the SF/F/H genres is a must, and reviewing experience is highly preferred. You may contact the editor here. Please note that Tangent Online is a fanzine (and is eligible for Hugo award consideration in the fanzine category) and does not pay its contributors.
(Cover above for the January 2013 Asimov's SF by Michael Whelan.)
Reviewer names and initials
James Aquilone (JA), Cyd Athens (CA), Stevie Barry/Stevie McMichael (SB or SM), Bob Blough (BB), Colleen Chen (CC), Lillian Csernica (LC), Joseph Giddings (JG), Richard E. D. Jones (RJ), Barbara Melville, (BM), Jared L. Mills (JM), Matthew Nadelhaft (MN), Michelle Ristuccia (MR), Chuck Rothman (CR), Kris Rudin (KR), John Sulyok (JS), Dave Truesdale (DT), Louis West (LW), Daniel Woods (DW).
I wish to thank the reviewers for the time and energy they have devoted to reading and reviewing this year's offerings. Without them, no Tangent Online and no Recommended Reading List; they're the ones who make it all work. Congratulations and thanks are also due these reviewers, those who sent material for review, and our readership for helping to celebrate Tangent's 20th anniversary in 2013, our first print issue sporting a cover date of July/August 1993. It's been a wild ride over the past 20 years and we look forward to many more. Thank you all — current and past reviewers, and everyone else who has given of their time and energy to write columns, articles, Author Profiles; interviewees, artists, or those who (while we were a pint magazine) contributed their thoughts to the letter column and thus helped to make it a watering hole for lively discussion.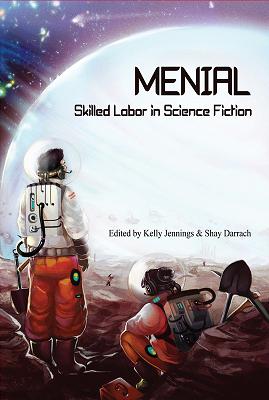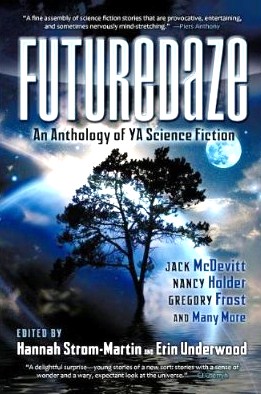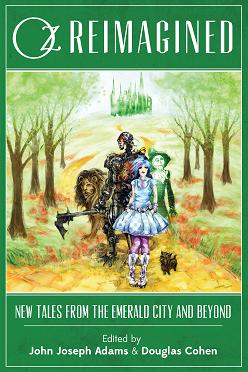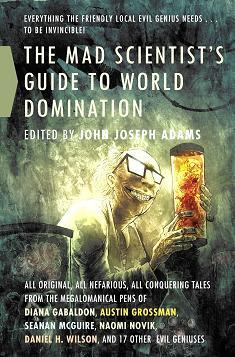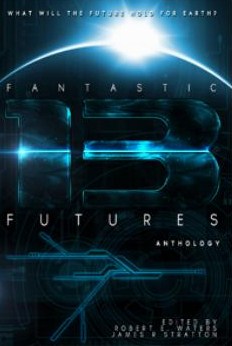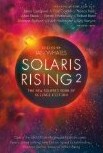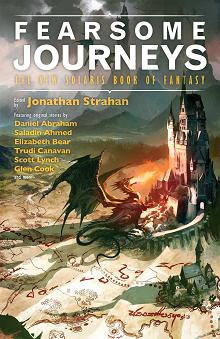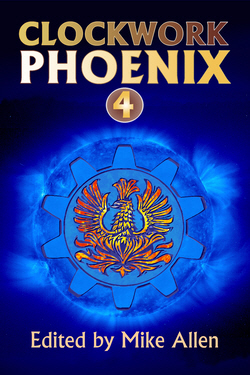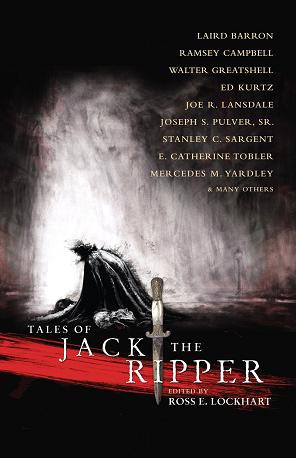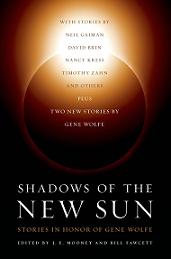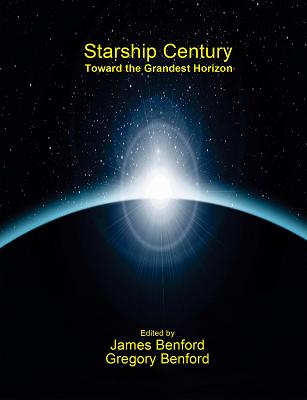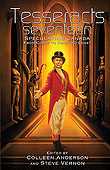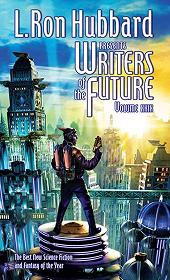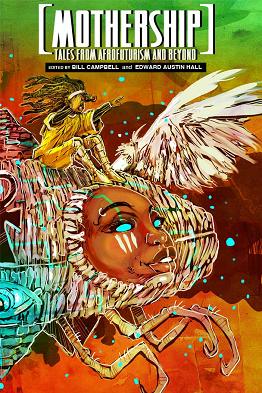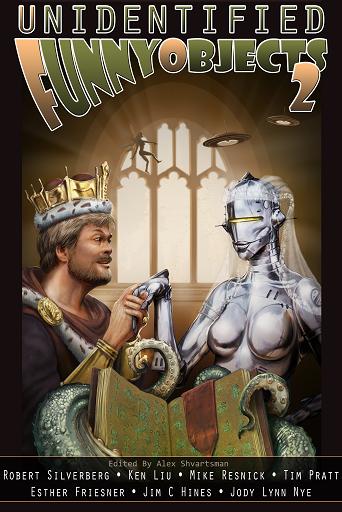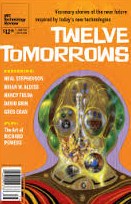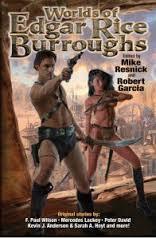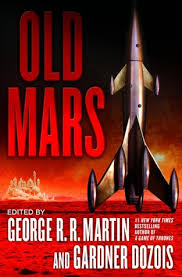 Short Stories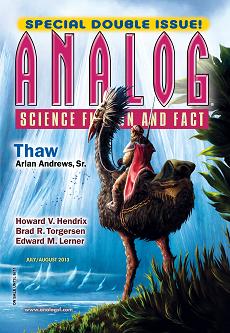 "When We Were Heroes" by Daniel Abraham (Tor.com, 1-16/13) SF (DT)
"Among Us" by Robert Reed (F&SF, 1-2/13) SF (DT)
"A Haunting in Love City" by Albert E. Cowdrey (F&SF, 1-2/13) H (DT)
"Tooth and Claw" by David Loel (Albedo One #43, Spring 2013) SF (CR)
"Where the Sun Shines Brightly" by David Gullen (Albedo One #43, Spring 2013) SF (CR)
"The New Guys Always Work Overtime" by David Erik Nelson (Asimov's, 2/13) SF (CC)
"The Last Dignity of Man" by Marjorie M. Liu, (The Mad Scientist's Guide to World Domination, 2/13) SF (CR)
"Blood and Stardust" by Laird Barron (The Mad Scientist's Guide to World Domination, 2/13) SF (DT)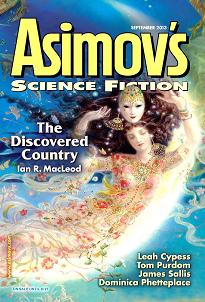 "The Food Taster's Boy" by Ben H. Winters (The Mad Scientist's Guide to World Domination, 2/13) SF (DT)
"Not With You, But With You" by Miri Kim (Futuredaze, 2/13) SF (BM)
"Winning Veronica's Heart" by Ian Creasey (IGMS #32, 2/13) F (MR)
"Shall Inherit" by James Lovegrove (Solaris Rising 2, 3/13) SF (DT)
"The Time Gun" by Nick Harkaway (Solaris Rising 2, 3/13) SF (DT)
"Ticking" by Allen Steele (Solaris Rising 2, 3/13) SF (DT)
"Far Distant Suns" by Norman Spinrad (Solaris Rising 2, 3/13) SF (DT)
"No Time At All" by John L. French (Fantastic Futures 13, 3/13) SF (DT)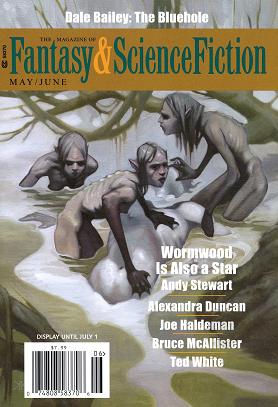 "Goodbye Grey Sky, Hello Blue" by KT Pinto (Fantastic Futures 13, 3/13) SF (DT)
"Man in the Woods" by Stuart Jaffe (Fantastic Futures 13, 3/13) SF (DT)
"The Sign in the Moonlight" by David Tallerman (Nightmare #6, 3/13) H (CC)
"It's the End of the World as We Know it, and We Feel Fine" by Harry Turtledove (Analog, 3/13) SF (LW)
"The Snack" by Bud Sparhawk (Analog, 3/13) SF (LW)
"The Last Clone" by Brad Aiken (Analog, 4/13) SF (LW)
"Trap-Weed" by Gemma Files (Clockwork Phoenix 4, 7/13) F (DT)
"Icicle" by Yukimi Ogawa (Clockwork Phoenix 4, 7/13) F (DT)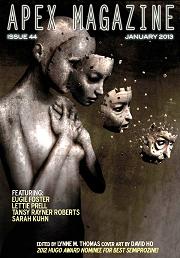 "Beach Bum and the Drowned Girl" by Richard Parks (Clockwork Phoenix 4, 7/13) F (DT, LW)
"The Old Woman with No Teeth" by Patricia Russo (Clockwork Phoenix 4, 7/13) F (LW)
"The History of Soul 2065" by Barbara Krasnoff (Clockwork Phoenix 4, 7/13) F (LW)
"Through Your Eyes" by Linda Nagata (Asimov's, 4-5/13) SF (BB)
"Distant Like the Stars" by Leah Cypress (Asimov's, 4-5/13) SF (BB)
"Jack of Coins" by Christopher Rowe (Tor.com, 5/13) SF (LW)
"We Have Always Lived on Mars" by Cecil Castellucci (Tor.com, 5/13) SF (LW)
"Soulcatcher" by James Patrick Kelly (Clarkesworld #80, 5/13) SF/H (DT)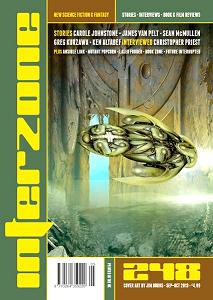 "(R+D)/I=M" by E. Catherine Tobler (Clarkesworld #80, 5/13) SF (DT)
"Centipede Heartbeat" by Caspian Gray (Nightmare #8, 5/13) H (MN)
"Doll Re Mi" by Tanith Lee (Nightmare #8, 5/13) H (MN)
"The Clockwork Trollop" by Debra Doyle and James D. MacDonald (Beneath Ceaseless Skies #120, 5-2/13) F (MN)
"The High King Dreaming" by Daniel Abraham (Fearsome Journeys: The New Solaris Book of Fantasy, 5/13) F (DT)
"The Mood Room" by Paul Di Filippo (F&SF, 5-6/13) SF (DT)
"Kernel" by Sean Monaghan (Aurealis #61, 6/13) SF (MN)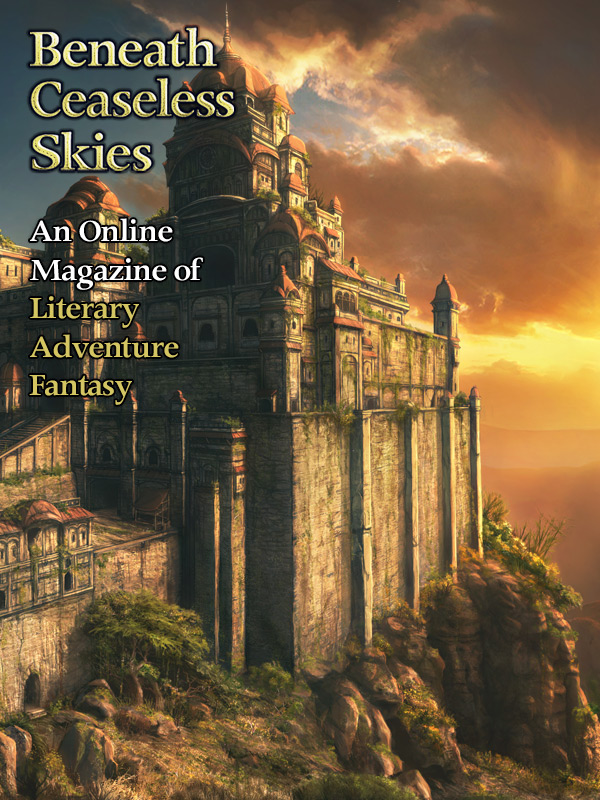 "Free-Fall" by Graham Templeton (Clarkesworld #81, 6/13) SF (BM)
"A Six-Penny Crossing" by Don Allmon (Beneath Ceaseless Skies #123, 6-13/13) F (DT, LW)
"Jinki and the Paradox" by Sathya Stone (Strange Horizons, 6-3/13) SF (DT)
"One" by Nancy Kress (Tor.com, 7/13) SF (JLM)
"Homecoming" by Susan Palwick (Tor.com, 7/13) F (JLM)
"The Plague" by Ken Liu (Tor.com, 7/13) SF (JLM)
"They Called Him Monster" by Anaea Lay (Nightmare #10, 7/13) H (LC)
"I am Moonflower" by Nicole Cushing (Weird Tales #361, Summer 2013) F (LC)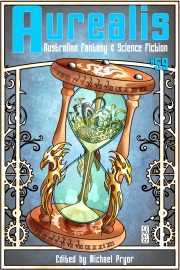 "Master Belladino's Mask" by Marina J. Lostetter (Writers of the Future XXIX, 7/13) F (DT)
"The Men Who Loved The Sun" by Hannah Adcock (Penumbra #22, 7/13) F (SB)
"A Quiet Little Town in Northern Minnesota" by K. C. Ball (Analog, 7-8/13) SF (CR)
"Ready, Set" by Mary Lou Klecha (Analog, 7-8/13) SF (CR)
"The Heartsmith's Daughters" by Harry R. Campion (F&SF, 7-8/13) F (CC, DT)
"Just as Good" by Jacob A. Boyd (Interzone, 7-8/13) SF (CR)
"The Butcher, the Baker, the Candle-stick Maker" by Ennis Drake (Tales of Jack the Ripper, 8/13) H (LC)
"The Truffle Pig" by T. E. Grau (Tales of Jack the Ripper, 8/13) H (LC)
"The Lunar Labyrinth" by Neil Gaiman (Shadows of the New Sun, Stories in Honor of Gene Wolfe, 8/13) H (DT)
"A Touch of Rosemary" by Timothy Zahn (Shadows of the New Sun, Stories in Honor of Gene Wolfe, 8/13) F (DT)
"…And Other Stories" by Nancy Kress (Shadows of the New Sun, Stories in Honor of Gene Wolfe, 8/13) F (DT)
"In the Shadow of the Gate" by William C. Dietz (Shadows of the New Sun, Stories in Honor of Gene Wolfe, 8/13) F (DT)
"Shepherds" by Greg Kurzawa (Clarkesworld #83, 8/13) F (BB)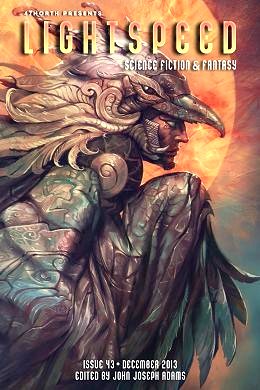 "Breathless in the Deep" by Cory Skerry (Lightspeed #39, 8/13) F (LW)
"Cayos in the Stream" by Harry Turtledove (Tor.com, 8/13) SF (LW)
"Din Ba Din" by Kate MacLeod (Strange Horizons, 8-12/13) F (DW)
"A Plant (Whose Name is Destroyed)" by Seth Dickinson (Strange Horizons, 8-19/13) SF (DW)
"Insistence of Vision" by David Brin (Twelve Tomorrows, 8/13) SF (DT)
"The Cyborg and the Cemetery" by Nancy Fulda (Twelve Tomorrows, 8/13) SF (DT)
"Firebrand" by Peter Watts (Twelve Tomorrows, 8/13) SF (DT)
"Transitional Forms" by Paul McCauley (Twelve Tomorrows, 8/13) SF (DT)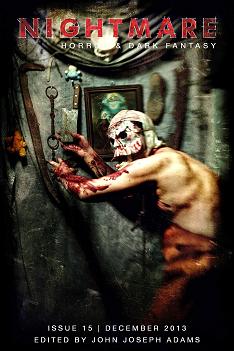 "What We Ourselves Are Not" by Leah Cypress (Asimov's, 9/13) SF (BB)
"The Schrödinger War" by D. Thomas Minton (Lightspeed #40, 9/13) SF (MR)
"Half as Old as Time" by Rob Chilson (F&SF, 9-10/13) F (DT)
"Someone Like You" by Margaret Ronald (Apex Magazine #52, 9/13) SF (MN)
"The Boy Who Loved Death" by Hal Duncan (Apex Magazine #52, 9/13) SF (MN)
"Bugs" by Rob Collins (Analog, 11/13) SF (LW)
"The Promise of Space" by James Patrick Kelly (Clarkesworld #84, 9/13) SF (MN)
"You Have to Follow the Rules" by Ada Hoffmann (Strange Horizons, 9-9/13) SF (CA)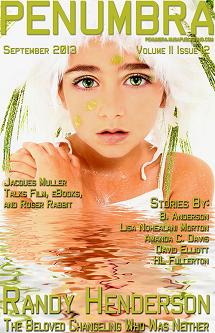 "Out of Scarlight" by Liz Williams (Old Mars, 10/13) F (DT)
"Ramesses on the Frontier" by Paul Cornell (Tor.com, 10/13) F (LW)
"Event Horizon" by Sunny Moraine (Strange Horizons, 10-21/13) H (MN)
"Grey in the Gauge of His Storm" by Damien Angelica Walters (Apex Magazine #53, 10/13) SF (MN)
"Never Dreaming (In Four Burns)" by Seth Dickinson (Clarkesworld #86, 11/13) SF (KR)
"Sing, Pilgrim!" by James Patrick Kelly (F&SF, 11-12/13) F (CC)
"At the Old Folks' Home at the End of the World" by John P. Murphy (IGMS, 11-12/13)F (CR)
"Why Don't You Ask the Doomsday Machine?" by Elliott Essex (Strange Horizons, 12-2/13) SF (LW)
"The Correspondence Between the Governess and the Attic" by Siobhan Carroll (Lightspeed #43, 12/13) F (LW)
"Invisible Planets" by Hao Jingfang (Lightspeed #43, 12/13) SF (LW)
Short Stories One Star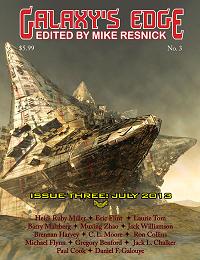 "Form and Void" by Elizabeth Bear (Fireside #3, Winter 2012/13) SF* (LW)
"The Driver" by S.S. Chapman (Penumbra #16, 1/13) SF* (LW)
"The Slide" by Davyne DeSye (Penumbra #16, 1/13) SF* (LW)
"Night Train to Paris" by David Gerrold (F&SF, 1-2/13) H* (LW)
"A Brief History of the Trans-Pacific Tunnel" by Ken Liu (F&SF, 1-2/13) SF* (LW)
"Inventory" by Carmen Maria Machado (Strange Horizons, 1-14/13) SF* (JM)
"Snowball the Rabbit Was Dead" by Angeli Primlani (Menial: Skilled Labor in Science Fiction, 1/13) SF* (CR)
"Leviathan" by Jasmine M. Templet (Menial: Skilled Labor in Science Fiction, 1/13) SF* (CR)
"All in a Day's Work" by Margaret M. Gilma (Menial: Skilled Labor in Science Fiction, 1/13) SF* (CR)
"The Belt" by Kevin Bennett (Menial: Skilled Labor in Science Fiction, 1/13) SF* (CR)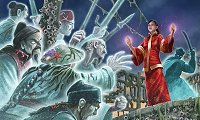 "Death in Life Songs" by Joe L. Murr (Albedo One #43, Spring 2013) SF* (CR)
"Live Arcade" by Erik Amundsen (Strange Horizons, 2-4/13) SF* (MR)
"The Crimson Kestrel" by Leslianne Wilder (Beneath Ceaseless Skies #114, 2-7/13) F* (MR)
"Sate My Thirst with Ink and Blood" by Adam Callaway (Beneath Ceaseless Skies #115, 2-21/13) F* (CR)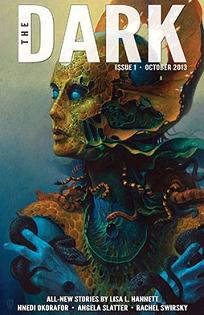 "Outbound from Put-in-Bay" by M. Bennardo (Asimov's, 2/13) SF* (CC)
"Father of the Groom" by Harry Turtledove (The Mad Scientist's Guide to World Domination, 2/13) SF* (DT, CR)
"Laughter at the Academy" by Seanan McGuire (The Mad Scientist's Guide to World Domination, 2/13) SF* (CR)
"Letter to the Editor" by David D. Levine (The Mad Scientist's Guide to World Domination, 2/13) SF* (CR)
"Rocks Fall" by Naomi Novik (The Mad Scientist's Guide to World Domination, 2/13) SF* (DT, CR)
"Another Prison" by Rahul Kanakia (Futuredaze, 2/13) SF* (BM)
"Driven Out" by Steve Alguire (Futuredaze, 2/13) SF* (BM)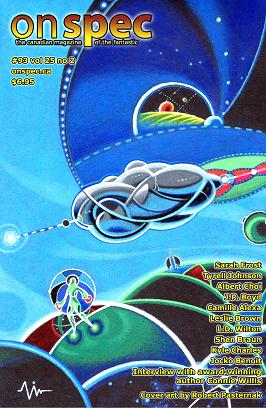 "A Voice in the Night" by Jack McDevitt (Futuredaze, 2/13) SF* (BM)
"The Myriad Dangers" by Lavie Tidhar (Futuredaze, 2/13) SF* (BM)
"From Sorrow's Gate" by Ian McHugh (Crowded Magazine #1, 2/13) F* (CR)
"Athlete's Foot" by Bill Ferris (Crowded Magazine #1, 2/13) H* (CR)
"A King of Shreds and Patches" by Tom Brennan (Crowded Magazine #1, 2/13) SF* (CR)
"Mad Hamlet's Mother" by Patricia C. Wrede (Apex #45, 2/13) F* (CR)
"No Breather in This World but Thee" by Jeff VanderMeer (Nightmare #6, 3/13) H* (CC)
"The Boy Who Drank From Lovely Women" by Steven Utley (F&SF, 3-4/13) F* (CR, DT)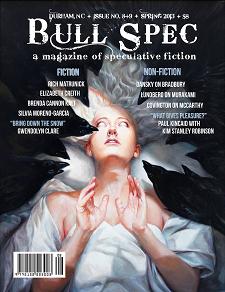 "Death Comes Sideways to the Mall" by William Alexander (Apex #46, 3/13) F* (CR)
"Disciples" by Emily Mah (Black Gate Online, 3/13) F* (LW)
"Launch Window" by Sarah Frost (Analog, 4/13) SF* (LW)
"Gravitas" by Weston Ochse (Nightmare #7, 4/13) H* (DT)
"Backscatter" by Greg Benford (Tor.com, 4/13) SF* (LW)
"Rag and Bone" by Priya Sharmia (Tor.com, 4/13) SF* (LW)
"Sing" by Karin Tidbeck (Tor.com, 4/13) SF* (LW)
"Camp Follower" by Trudi Canavan (Fearsome Journeys: The New Solaris Book of Fantasy, 5/13) F* (DT)
"Black Train Blues" by James A. Moore (Midnight Echo #9, 5/13) F* (JS)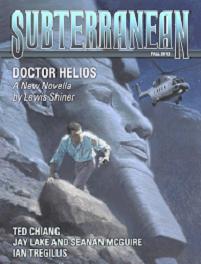 "Coffee Rings" by Kristin Dearborn (Midnight Echo #9, 5/13) F* (JS)
"The Fathomed Wreck to See" by Alan Baxter (Midnight Echo #9, 5/13) F* (JS)
"The Candle Burned" by Mike Gelprin (Nautilus #1, 5/13) SF* (CA)
"The Horses Under Her Skin" by Leena Likitalo (Waylines #3, 5/13) F* (CR)
"The Button Man and the Murder Tree" by Cherie Priest (Tor.com, 5/13) F* (LW)
"The Drowned Man" by Laura E. Price (Beneath Ceaseless Skies #120, 5-2/13) F* (MN)
"Today I Am Nobody" by Tina Gower (Galaxy's Edge #2, 5-6/13) SF* (CR)
"Beneath a Cinder Sun" by Gordon Cash (Penumbra #9, 6/13) SF* (SB)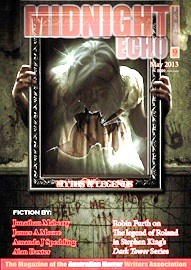 "A Cup of Dirt" by Mark Niemann-Ross (Analog, 6/13) SF* (LW)
"Hydroponics 101" by Maggie Clark (Analog, 6/13) SF* (LW)
"Remnants" by Dan Rabarts (Aurealis #62, 7/13) F* (JG)
"The Boy and the Box" by Adam-Troy Castro (Lightspeed #38, 7/13) H* (CR)
"Ten Cigars" by C. S. E. Cooney (Strange Horizons, 7-15/13) SF/F* (MN)
"Today's Friends" by David J. Schwartz (Asimov's, 7/13) F* (RJ)
"A Brief History of a World in the Time Before This Time" by Muxing Zhao (Galaxy's Edge #3, 7/13) F* (CA)
"Three Seconds" by Jonas David (IGMS #34, 7-8/13) SF/F* (MR)
"I Come From the Dark Universe" by Cat Rambo (Clockwork Phoenix 4, 7/13) SF* (DT, LW)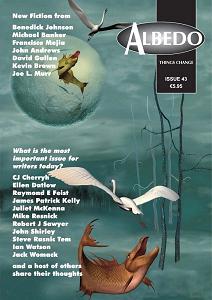 "Lilo Is" by Corinne Duyvis (Clockwork Phoenix 4, 7/13) F* (DT, LW)
"The Canal Barge Magician's Number Nine Daughter" by Ian McHugh (Clockwork Phoenix 4, 7/13) F* (LW)
"What Still Abides" by Marie Brennan (Clockwork Phoenix 4, 7/13) H* (DT, LW)
"Selected Program Notes from the Retrospective Exhibition of Theresa Rosenberg Latimer" by Kenneth Schneyer (Clockwork Phoenix 4, 7/13) F* (LW)
"The Spirit" by J.M. Scott (Penumbra #22, 7/13) F* (SB)
"The Cicadas of Okinawa" by Stephanie M. Loree (Penumbra #22, 7/13) F* (SB)
"Raising Words" by Stewart C. Baker (Penumbra #22, 7/13) F* (SB)
"They Shall Know Us At the End" by Kendra Leigh Speedling (Penumbra #22, 7/13) F* (SB)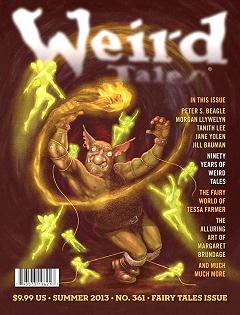 "Enough" by Jane Yolen (Weird Tales #361, Summer 2013) F* (LC)
"Not With a Bang" by Rosemary Claire Smith (Analog, 7-8/13) SF* (CR)
"Half a Conversation, Overheard While Inside an Enormous Sentient Slug" by Oliver Buckram (F&SF, 7-8/13) F* (CC)
"The Miracle Cure" by Harvey Jacobs (F&SF, 7-8/13) SF* (DT)
"Villain, By Necessity" by Pete Rawlik (Tales of Jack the Ripper, 8/13) H* (LC)
"The Heavy Generation" by David Brin (Starship Century, 8/13) SF* (LW)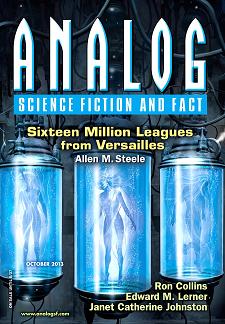 "The She-Wolf's Hidden Grin" by Michael Swanwick (Shadows of the New Sun: Stories in Honor of Gene Wolfe, 8/13) SF/H* (DT)
"Rhubarb and Beets" by Todd McCaffrey (Shadows of the New Sun: Stories in Honor of Gene Wolfe, 8/13) F* (DT)
"The Dreams of the Sea" by Jody Lynn Nye (Shadows of the New Sun: Stories in Honor of Gene Wolfe, 8/13) F* (DT)
"The Litigation Master and the Monkey King" by Ken Liu (Lightspeed #39, 8/13) F* (LW)
"The Knight of Chains, the Deuce of Stars" by Yoon Ha Lee (Lightspeed #39, 8/13) SF* (LW)
"Creatures from a Blue Lagoon" by Liz J. Andersen (Analog, 9/13) SF* (CC)
"After the Funeral" by Daniel Marcus (F&SF, 9-10/13) SF* (CR)
"The Game Room" by KJ Kabza (F&SF, 9-10/13) F* (CR)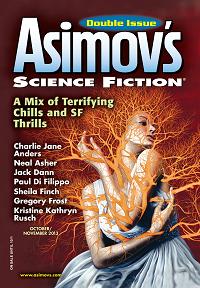 "The Sweetness of Bitter" by Beth Cato (IGMS #35, 9-10/13) F* (JA)
"A Fine Specimen" by Lisa Allen-Agostini (Mothership: Tales from Afrofuturism and Beyond, 10/13) SF* (CA)
"At the Peephole Palace" by William R. Eakin (Analog, 10/13) SF* (JS)
"Copper Charley" by Joseph Weber (Analog, 11/13) SF* (LW)
"The Pillar of the Small God" by Gerry Huntman (Aurealis #63, 8/13) SF* (SB)
"Prophet" by Liam Pieper (Aurealis #63, 8/13) SF* (SB)
"Now Ix, He Was a Lover" by Hannah Strom-Martin (Beneath Ceaseless Skies #130, 9-19/13) F* (MR)
"The Coffinmaker's Love" by Alberto Yáñez (Beneath Ceaseless Skies #131, 10-3/13) F* (CA)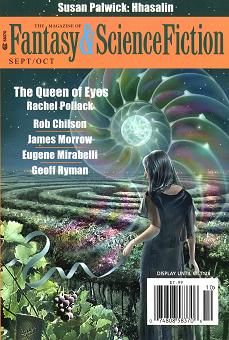 "Waiting for Medusa" by Jack Dann (Asimov's, 10-11/13) SF* (CR)
"Poppies" by S G Larner (Aurealis #65, 10/13) F* (CR)
"The Mythology of Salt" by O.J. Cade (Strange Horizons, 11-11/13) SF* (LW)
"Hard Stars" by Brendan DuBois (F&SF, 11-12/13) SF* (DT)
"Escape from the Andromedan Empire" by Ian Creasey (IGMS #36, 11-12/13) SF* (CR)
"The Unchanging Nature of Stones" by Andrea Stewart (Galaxy's Edge #5, 11-12/13) F*
"Dignity" by Jay O'Connell (Asimov's, 12/ 13) SF* (LW)
"Grainers" by R. Neube (Asimov's, 12/13) SF* (LW)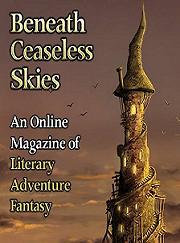 "Frog Watch" by Nancy Kress (Asimov's, 12/13) SF* (LW)
"The Awakening of Master March" by Randy McCharles (The Puzzle Box, Fall/Winter 2013/14) F* (KR)
"Autumn Unbound" by Billie Milholland (The Puzzle Box, Fall/Winter 2013/14) F* (KR)
"Leaving Night" by Gregory Benford (Lightspeed #43, 12/13) SF* (LW)
"Silent Bridge, Pale Cascade" by Benjanun Sriduangkaew (Clarkesworld #87, 12/13) SF* (CR)
"Daedalum, the Devil's Wheel" by E. Lily Yu (Clarkesworld #87, 12/13) SF* (CR)
Short Stories Two Stars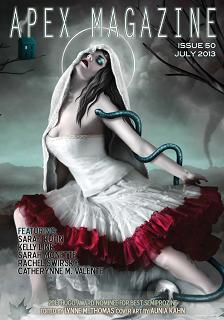 "John Fisher" by Daniel Abraham (Fireside #3, Winter 2012/13) H** (LW)
"The White Phoenix Feather" by Mary Robinette Kowal (Fireside #3, Winter 2012/13) SF** (LW)
"A House in the Woods" by Samuel Marzioli (Penumbra #16, 1/13) SF** (LW)
"Livestock" by Sean Houlihan (Penumbra #16, 1/13) SF** (LW)
"Guy" by T.D. Edge (Penumbra #16, 1/13) SF** (LW)
"On Murder Island" by Matt Williamson (Nightmare #4, 1/13) H** (SM)
"In the Moment" by Jerry Oltion (Analog, 1-2/13) SF** (LW)
"The War of the Worlds, Book One, Chapter 18: The Sergeant-Major" by John G. Hemry (Analog, 1-2/13) SF** (LW)
"Death Sent" by Christian K. Martinez (Beneath Ceaseless Skies #112, 1-10/13) SF** (MR)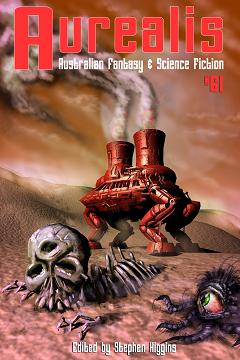 "Professor Incognito Apologizes: An Itemized List" by Austin Grossman (The Mad Scientist's Guide to World Domination, 2/13) SF** (CR)
"Rural Singularity" by Alan Dean Foster (The Mad Scientist's Guide to World Domination, 2/13) SF** (DT, CR)
"Homo Perfectus" by David Farland (The Mad Scientist's Guide to World Domination, 2/13) SF** (DT)
"A More Perfect Union" by L. E. Modesitt, Jr. (The Mad Scientist's Guide to World Domination, 2/13) SF** (DT)
"The Pittsburgh Technology" by Jeffrey Ford (The Mad Scientist's Guide to World Domination, 2/13) SF** (DT)
"Mofongo Knows" by Grady Hendrix (The Mad Scientist's Guide to World Domination, 2/13) SF** (DT, CR)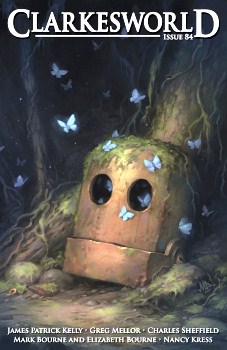 "The Cleansing" by Mark Smith-Briggs (Futuredaze, 2/13) SF** (BM)
"Me and My Army of Me" by Katrina Nicholson (Futuredaze, 2/13) SF** (BM)
"Out of the Silent Sea" by Dale Lucas (Futuredaze, 2/13) SF** (BM)
"The Temple's Posthole" by M.K. Hutchins (IGMS #32, 2/13) F** (MR)
"Brother Swine" by Garret Ashley (Asimov's, 3/13) F** (JS)
"The Paragon of Animals" by Andrew Barton (Analog, 3/13) SF** (LW)
"I Have Placed My Sickness Upon You" by Karen Tidbeck (Strange Horizons 3-4/13) SF?** (MN)
"Mermaid's Hook" by Liz Argall (Apex #46, 3/13) F** (CR)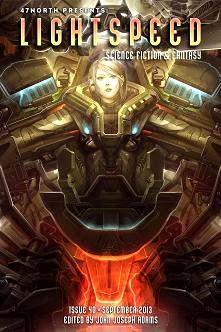 "Wendell, Custodian of the Galaxy" by Brian Griggs (Penumbra #18, 3/13) SF** (SB)
"The Spaces Between The Stars" by Julia Nolan (Penumbra #18, 3/13) SF** (SB)
"Creator of the Cosmos Job Interview Today" by Nick DiChario (Galaxy's Edge #1, 3/13) SF** (LW)
"Requiem for a Druid" by Alex Shvartsman (Galaxy's Edge #1, 3/13) F** (LW)
"The Bright Seas of Venus" by Stephen Leigh (Galaxy's Edge #1, 3/13) F** (LW)
"The Cartographer of Dreamland" by Robert J. Howe (IGMS #33, 3-4/13) F** (MR)
"Seeker of Fortune" by David Evan Harris (Black Gate Online, 3-17/13) F** (LW)
"Deus Ex Arca" by Desirina Boskovich (Lightspeed #35, 4/13) F** (CA)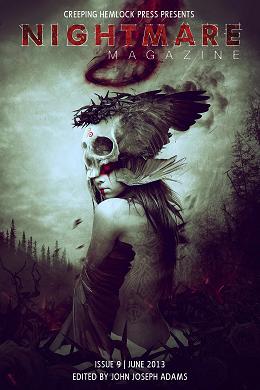 "The Sorrowless Thief" by Ryan Harvey (Black Gate Online, 4-7/13) SF/F** (JS)
"Do Not Touch" by Prudence Shen (Tor.com, 4/13) SF** (LW)
"Skeptic" by Jennifer R. Povey (Analog, 4/13) SF** (LW)
"Spirits of Salt: A Tale of the Coral Heart" by Jeffrey Ford (Fearsome Journeys: The New Solaris Book of Fantasy, 5/13) F** (DT)
"Little Boy, Little Girl, Lost in the Woods" by Mark Patrick Lynch (Midnight Echo #9, 5/13) F** (JS)
"Changeling" by Jonathan Maberry (Midnight Echo #9, 5/13) SF** (JS)
"Word for World" by Kate Heartfield (Waylines #3, 5/13) F** (CR)
"Catspaw" by James Bradley (Aurealis #60 5/13) F** (JS)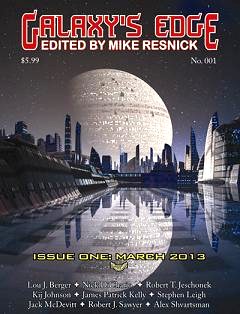 "Hear the Enemy, My Daughter" by Kenneth Schneyer (Strange Horizons 5-6/13) SF** (MN)
"Systems of Romance" by Ted White (F&SF, 5-6/13) SF** (MR)
"Effect and Cause" by Ken Liu (Galaxy's Edge #2, 5-6/13) SF** (CR)
"The Flamingo Girl" by Brad R. Torgersen (Galaxy's Edge #2, 5-6/13) SF** (CR)
"Shall We Gather" by Alex Bledsoe (Tor.com, 5/13) F** (LW)
"Out in the Dark" by Linda Nagata (Analog, 6/13) SF** (LW)
"A Love Song Concerning His Vineyard" by Megan Arkenberg (Asimov's, 6/13) SF** (CR)
"Burning Men" by Samuel Marzioli (Penumbra #21, 6/13) SF** (SB)
"Going Home" by Chris Pavesic (Penumbra #21, 6/13) SF** (SB)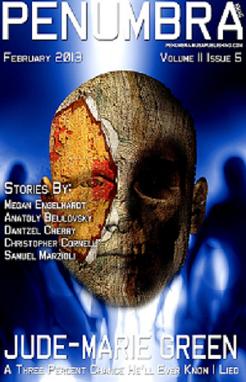 "To Die for Moonlight" by Sarah Monette (Apex #50, 7/13) H** (SB)
"Two Captains" by Gemma Files" (Beneath Ceaseless Skies #125, 7-11/13) F** (SB)
"Portraits from the Shadow" by D. Thomas Minton (IGMS #34, 7-8/13) SF/F** (MR)
"The Ghost Wife of Arlington" by Marilyn Guttridge (Writers of the Future XXIX, 7/13) H** (DT)
"Dreameater" by Andrea Stewart (Writers of the Future XXIX, 7/13) H** (DT)
"The Fire Wish" by Arthur Lorenz (Penumbra #22, 7/13) F** (SB)
"The Negative Impact of Climate Change on the Unusual Beasts of the World" by Jamie Todd Rubin (Analog, 7-8/13) SF** (CR)
"The Color of Sand" by KJ Kabza (F&SF, 7-8/13) F** (CC)
"The Shoot-Out at Burnt Corn Ranch Over the Bride of the World" by Catherynne M. Valente (Subterranean Online, Summer 2013) F** (CA)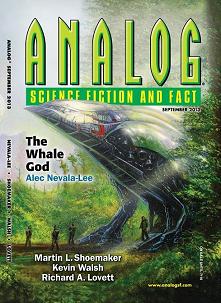 "Our Lady of the Thylacines" by Yves Meynard (Clockwork Phoenix 4, 7/13) F** (LW)
"Happy Hour at the Tooth and Claw" by Shira Lipkin (Clockwork Phoenix 4, 7/13) F** (LW)
"The Frog King's Daughter" by Russ Colson (Interzone, 7-8/13) SF** (CR)
"The Log" by David Brin (Shadows of the New Sun, Stories in Honor of Gene Wolfe, 8/13) SF** (DT)
"The Ex-Corporal" by Leah Thomas (Asimov's, 8/13) SF** (LW)
"Life of the Author Plus Seventy" by Kenneth Schneyer (Analog, 9/13) SF** (CC)
"Un Opera Nello Spazio" by Oliver Buckram (F&SF, 9-10/13) SF** (CR, DT)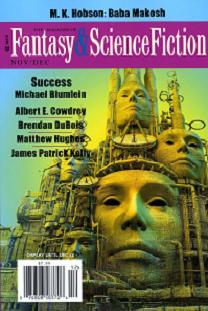 "The Shore at the Edge of the World" by Eugene Mirabelli (F&SF, 9-10/13) F** (CR, DT)
"Turning the Whisper" by Anaea Lay (Apex Magazine #52, 9/13) SF** (MN)
"How You Ruined Everything" by Konstantine Paradias (Unidentified Funny Objects 2, 10/13) SF** (MR)
"Butcher's Hook" by Jason Franks (Aurealis #65, 10/13) F** (CR)
"The Gentle Sleeper" by David Evan Harris (Black Gate Online, 10-12/13) F** (CR)
"Ghost Days" by Ken Liu (Lightspeed #41, 10/13) SF** (JS)
"When the Rain Comin" by Ian McHugh (Asimov's, 10-11/13) SF** (CR)
"Within These Well-Scrubbed Walls" by Ian Creasey (Asimov's, 10-11/13) SF** (CR)
"A Very Small Dispensation" by Sheila Finch (Asimov's, 10-11/13) SF** (CR)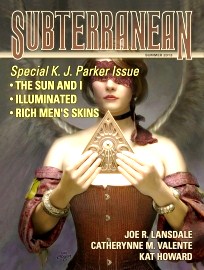 "Would You Volunteer to Kill Wendy?" by Eric Cline (Galaxy's Edge #5, 11-12/13) H** (SB)
"Il Gran Cavallo" by Martin L. Shoemaker (Galaxy's Edge #5, 11-12/13) SF**
"Light Crusader's Dark Dessert" by James Beamon (IGMS #36, 11-12/13) SF** (CR)
"The Sturdy Bookshelves Of Pawel Oliszewski" by Ferrett Steinmetz (IGMS #36, 11-12/13) SF** (CR)
"Best Regards" by Andrew S. Williams (Waylines #6, 11/13) SF** (CR)
"Leonora" by Elise Forier Edie (Penumbra #26, 11/13) F** (KR)
"The Eagle Project" by Jack McDevitt (Analog, 11/13) SF** (LW)
"Bloom" by Gregory Norman Bossert (Asimov's, 12/13) SF** (LW)
"Angela and Her Three Wishes" by Eileen Bell (The Puzzle Box, Fall/Winter 2013/14) F** (KR)
"Ghost in the Machine" by Ryan T. McFadden (The Puzzle Box, Fall/Winter 2013/14) F** (KR)
"Miss Nobody Never Was" by James Patrick Kelly (Lightspeed #43, 12/13) F** (LW)
"Significant Figures" by Rachael Acks (Strange Horizons, 12-16/13) SF** (LW)
Short Stories Three Stars
"Chew" by Tamsyn Muir (Nightmare #4, 1/13) H*** (SM)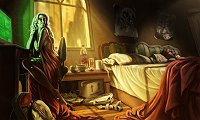 "Sacred Cows" by Sarah Langan (Nightmare #5, 2/13) H*** (SM)
"The Performance Artist" by Lettie Prell (Apex #44, 1/13) SF*** (BM)
"The Angel of Death Has a Business Plan" by Heather Lindsley (The Mad Scientist's Guide to World Domination, 2/13) SF*** (DT, CR)
"House Hunting" by Shannon Fay (Crowded Magazine #1, 2/13) F*** (CR)
"Mirrorball" by Jason Helmandollar (Crowded Magazine #1, 2/13) SF*** (CR)
"Through the Veil" by Michael T. Banker (IGMS #32, 2/13) F*** (DT, MR)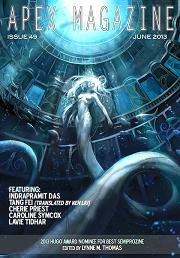 "The War of Peace" by Trina Marie Phillips (IGMS #32, 2/13) F*** (MR)
"On the Arrival of the Paddle-Steamer on the Docks of V—" by Peter M. Ball (Eclipse Online, 2/13) F*** (CR)
"Beheaded by Peasants" by James L. Sutter (Beneath Ceaseless Skies #114, 2-7/13) F*** (MR)
"Bakemono, or The Thing That Changes" by A.B. Treadwell (Beneath Ceaseless Skies #116, 3-7/13) F*** (JS)
"The Long View" by Van Aaron Hughes (F&SF, 3-4/13) SF*** (CR, DT)
"Manmade" by Mercurio D. Rivera (Solaris Rising 2, 3/13) SF*** (DT)
"If You Were a Dinosaur, My Love" by Rachel Swirsky (Apex #46, 3/13) SF*** (CR, JG, BB)
"Playing to Win" by Nathanial Lee (Penumbra #18, 3/13) SF*** (SB)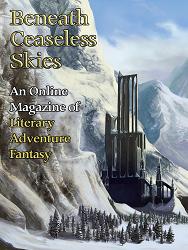 "Light Chimes" by Matthew S. Rotundo (Penumbra #18, 3/13) SF*** (SB)
"Explaining Cthulhu to Grandma" by Alex Shvartsman (IGMS #33, 3-4/13) F*** (MR)
"Gray Wings" by Karl Bunker (Asimov's, 4-5/13) SF*** (BB)
"The Oracle" by Ken Lui (Asimov's, 4-5/13) SF*** (BB)
"Target Audience" by H.L. Fullerton (Penumbra #21, 6/13) SF*** (SB)
"New Miracle Celebrity Weight Loss Diet" by Jenny Blackford (Penumbra #21, 6/13) SF*** (SB)
"Colossus" by Shannon Fay (Penumbra #21, 6/13) SF*** (SB)
"The House on Cobb Street" by Lynda Rucker (Nightmare #9, 6/13) H*** (LC)
"The Girl Who Welcomed Death to Svalgearyen" by Barbara A. Barnett (Beneath Ceaseless Skies #124, 6-27/13) F*** (MR)
"Abomination Rises on Filthy Wings" by Rachel Swirsky (Apex #50, 7/13) H*** (SB)
"Cop for a Day" by Chrome Oxide (Writers of the Future XXIX, 7/13) SF*** (DT)
"The Sea of Memory" by Gene Wolfe (Shadows of the New Sun: Stories in Honor of Gene Wolfe, 8/13) SF*** (DT)
"Intelligent Design" by Marta Salek (Aurealis #64, 9/13) SF*** (SB)
"Improved Cubicle Door" by M.C.A. Hogarth (Unidentified Funny Objects 2, 10/13) F*** (MR)
Novelettes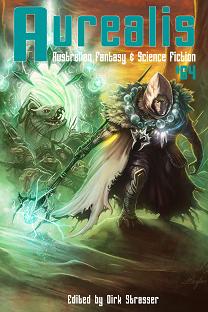 "They Shall Salt the Earth With Seeds of Glass" by Alaya Dawn Johnson (Asimov's, 1/13) SF (MR)
"Devil or Angel" by Matthew Hughes (F&SF, 1-2/13) F (LW)
"Descartes's Stepchildren" by Robert Scherrer (Analog, 1-2/13) SF (LW)
"Monday-Child" by C.S. McMullen (Aurealis #57, 2/13)) F (LW)
"A Wave Then Goodbye" by Patrick Thomas (Fantastic Futures 13, 3/13) SF (DT)
"Goldfeather and the Glass Princess" by Robert E. Waters & James Stratton (Fantastic Futures 13, 3/13) SF (DT)
"With Fate Conspire" by Vandana Singh (Solaris Rising 2, 3/13) SF (DT)
"The Firewall and the Door" by Sean McMullen (Analog, 3/13) SF (LW)
"Julian of Earth" by Colin P. Davies (Asimov's, 4-5/13) SF (BB)
"Changes" by Rand B. Lee (F&SF, 5-6/13) SF (DT)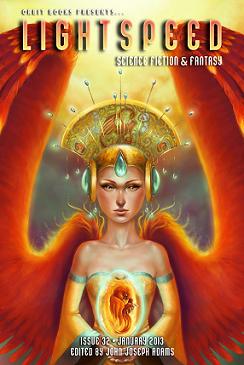 "The Effigy Engine: A Tale of the Red Hats" by Scott Lynch (Fearsome Journeys: The New Solaris Book of Fantasy, 5/13) F (DT)
"The Dargonslayer of Merebarton" by KJ Parker (Fearsome Journeys: The New Solaris Book of Fantasy, 5/13) F (DT)
"Sponda the Suet Girl and the Secret of the French Pearl" by Ellen Klages (Fearsome Journeys: The New Solaris Book of Fantasy, 5/13) F (DT)
"Shaggy Dog Bridge: A Black Company Story" by Glen Cook (Fearsome Journeys: The New Solaris Book of Fantasy, 5/13) F (DT)
"One Last, Great Adventure" by Ellen Kushner & Ysabeau S. Wilce (Fearsome Journeys: The New Solaris Book of Fantasy, 5/13) F (DT)
"Hiding on the Red Sands of Mars" by Anaea Lay (Strange Horizons, 5-13 & 5-20/13) SF (MN)
"Burning Girls" by Veronica Schanoes (Tor.com, 6/13) F (LW)
"Cold, Cold War" by Ian McHugh (Beneath Ceaseless Skies #123, 6-13/13) SF (DT, LW)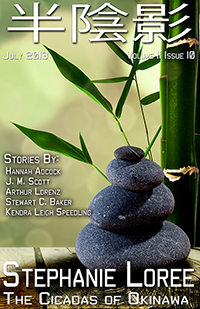 "Planetary Scouts" by Stephen Sottong (Writers of the Future XXIX, 7/13) SF (DT)
"The Grande Complication" by Christopher Reynaga (Writers of the Future XXIX, 7/13) F (DT)
"Oh Give Me a Home" by Adam Rakunas (F&SF, 7-8/13) SF (CC, DT)
"Cry of the Charkal" by Vandana Singh (Clarkesworld #83, 8/13) F (BB)
"The Oracle" by Lavie Tidhar (Analog, 9/13) SF (CC)
"The Whale God" by Alec Nevala-Lee (Analog, 9/13) SF (CC)
"The Collectors" by Albert E. Cowdrey (F&SF, 9-10/13) F (DT)
"Scorpion Men of Venus" by Richard A. Lupoff (Worlds of Edgar Rice Burroughs, 10/13) SF (DT)
"Moon Maid Over Manhattan" by Peter David (Worlds of Edgar Rice Burroughs, 10/13) SF (DT)
"To the Nearest Planet" by Todd McCaffrey (Worlds of Edgar Rice Burroughs, 10/13) SF (DT)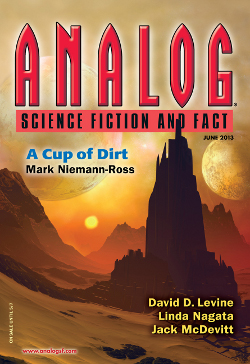 "Martian Blood" by Allen M. Steele (Old Mars, 10/13) SF (DT)
"The Ugly Duckling" by Matthew Hughes (Old Mars, 10/13) SF (DT)
"In the Tombs of the Martian Kings" by Mike Resnick (Old Mars, 10/13) SF (DT)
"Shoals" by Mary Rosenblum (Old Mars, 10/13) SF (DT)
"Redskins of the Badlands" by Paul Di Filippo (Analog, 11/13) SF (LW)
"Grounded" by Meg Pontecorvo (Asimov's, 10-11/13) SF (CR)
"Hell for Company" by Albert E. Cowdrey (F&SF, 11-12/13) H (DT)
"Entangled" by Ian R. MacLeod (Asimov's, 12/13) SF (LW)
Novelettes One Star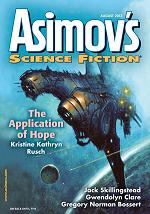 "Watching the Cow" by Alex Irvine (F&SF, 1-2/13) SF* (LW)
"True to Form" by Kyle Kirkland (Analog, 1-2/13) SF* (LW)
"The Exchange Officers" by Brad R. Torgersen (Analog, 1-2/13) SF* (LW)
"Matron Saint of Murder" by Alec Austin (Crowded Magazine #1, 2/13) F* (CR)
"Where Colossi Sleep" by Daniel Baker (Aurealis #57, 2/13) SF* (LW)
"When Thomas Jefferson Dined Alone" by Kristine Kathryn Rusch (Solaris Rising 2, 3/13) SF* (DT)
"Bonds" by Robert Reed (Solaris Rising 2, 3/13) SF* (DT)
"Uncertainty" by Kristine Kathryn Rusch (Asimov's, 3/13) SF* (JS)
"Raptors" by Conrad Williams (Subterranean Online, Winter 2013) F* (CR)
"The Lost Bloodhound Sonata" by Carl Frederick (Analog, 4/13) SF* (LW)
"Altruism, Inc." by Kyle Kirkland (Analog, 4/13) SF* (LW)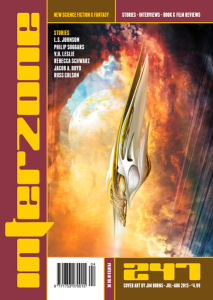 "Leaf and Branch and Grass and Vine" by Kate Elliott (Fearsome Journeys: The New Solaris Book of Fantasy, 5/13) F* (DT)
"Forever People" by Robert V. S. Redick (Fearsome Journeys: The New Solaris Book of Fantasy, 5/13) F* (DT)
"Canticle of the Beasts" by Bruce McAllister (F&SF, 5-6/13) H* (DT)
"Skylight" by Kristine Kathryn Rusch (Asimov's, 6/13) SF* (CR)
"The Fountain" by G. David Nordley (Asimov's, 6/13) SF* (CR)
"The Art of Homecoming" by Carrie Vaughn (Asimov's, 7/13) F* (RJ)
"Yubba Vines" by Rudy Rucker & Paul Di Filippo (Asimov's, 7/13) F* (RJ)
"Twelve Seconds" by Tina Gower (Writers of the Future XXIX, 7/13) SF* (DT)
"In Joy, Knowing the Abyss Behind" by Sarah Pinsker (Strange Horizons, July 1st & 8th/2013) SF* (MN)
"Thaw" by Arlan Andrews, Sr. (Analog, 7-8/13) SF* (CR)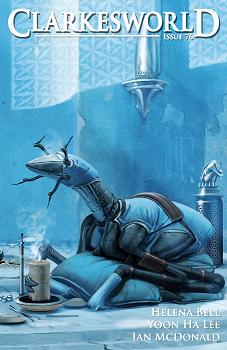 "In the Mountains of Frozen Fire by Denis Winslow Codswallop Bourginon Cushing" by Rus Wornom (F&SF, 7-8/13) H* (CC, DT)
"Epistoleros" by Aaron Allston (Shadows of the New Sun: Stories in Honor of Gene Wolfe, 8/13) F* (DT)
"Stone to Stone, Blood to Blood" by Gwendolyn Clare (Asimov's, 8/13) SF* (LW)
"Arlington" by Jack Skillingstead (Asimov's, 8/13) SF* (LW)
"Atmosphaera Incognita" by Neal Stephenson (Starship Century, 8/13) SF* (LW)
"The Man Who Sold the Stars" by Gregory Benford (Starship Century, 8/13) SF* (LW)
"Zero for Conduct" by Greg Egan (Twelve Tomorrows, 1/13) SF* (DT)
"Following Jules" by Ron Collins (Analog, 10/13) SF* (JS)
"The Dead World" by F. Paul Wilson (Worlds of Edgar Rice Burroughs, 10/13) SF* (DT)
"Tarzan and the Land That Time Forgot" by Joe R. Lansdale (Worlds of Edgar Rice Burroughs, 10/13) SF* (DT)
"The Time Travel Club" by Charlie Jane Anders (Asimov's, 10-11/13) SF* (CR)
"No Others Are Genuine" by Gregory Frost (Asimov's, 10-11/13) SF* (CR)
"Quantum Orpheus, at the Light Cone's Apex" by Igor Teper (Asimov's, 10-11/13) SF* (CR)
"The Soul in the Bell Jar" by KJ Kabza (F&SF, 11-12/13) DF/H* (CC, DT)
Novelettes Two Stars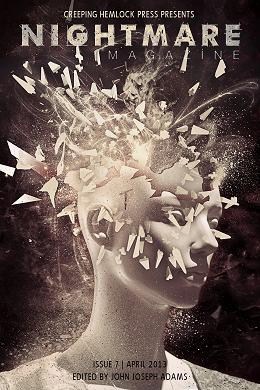 "Hard Silver" by Steven R. Boyette (Subterranean Online, Winter 2013) F** (CR)
"The Blue Celeb" by Desmond Warzel (F&SF, 1-2/13) H** (LW)
"Buddha Nature" by Amy Thomson (Analog, 1-2/13) SF** (LW)
"The Find" by Mark Rigney (Black Gate Online, 2-17/13) SF** (LW)
"The Language of True Things" by Nick Scorza (Beneath Ceaseless Skies #115, 2-21/13) F** (CR)
"The Last Dignity of Man" by Marjorie M. Liu (The Mad Scientist's Guide to World Domination, 2/13) SF**(DT)
"Among Friends" by Deborah J. Ross, (F&SF, 3-4/13) SF** (CR)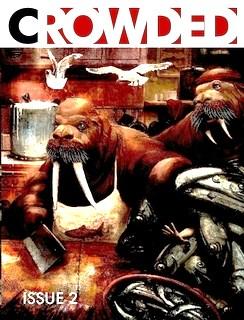 "Solidarity" by Naomi Kritzer (F&SF, 3-4/13) SF** (CR)
"The Fairy Library" by Tim Pratt (Apex #46, 3/13) F** (CR)
"Writing in the Margins" by Joel Richards (Asimov's, 4-5/12) SF** (BB)
"The Ghost Makers" by Elizabeth Bear (Fearsome Journeys: The New Solaris Book of Fantasy, 5/13) F** (DT)
"The Bluehole" by Dale Bailey (F&SF, 5-6/13) SF** (MR)
"A Little of the Night" by Tanith Lee (Clockwork Phoenix 4, 7/13) H** (LW)
"The Year of the Rat" by Chen Qiufan (F&SF, 7-8/13) SF** (CC, DT)
"The Keystone" by Mark Rigney (Black Gate Online, 8-4/13) F** (LW)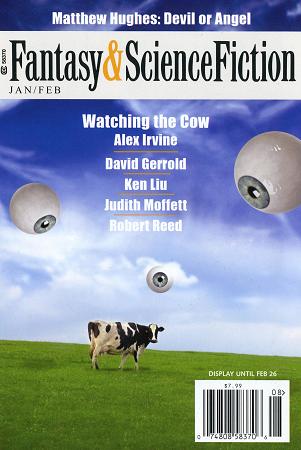 "A Rumor of Angels" by Dale Bailey (Tor.com, 9/13) F** (BB)
"Hhasalin," by Susan Palwick, (F&SF, 9-10/13) F** (CR)
"Bemused" by Marc Laidlaw (F&SF, 9-10/13) F** (CR, DT)
"The Queen of the Night's Aria" by Ian McDonald (Old Mars, 10/13) SF** (DT)
"Adventures in Cognitive Homogamy: A Love Story" by Paul Di Filippo (Asimov's, 10-11/13) SF** (CR)
"Encounter on Starbase Kappa" by Kristine Kathryn Rusch (Asimov's, 10-11/13) SF** (CR)
"Baba Makosh" by M. K. Hobson (F&SF, 11-12/13) F** (CC)
Novelettes Three Stars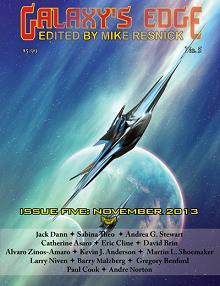 "Hotel" by Suzanne Palmer (Asimov's, 1/13) SF*** (MR)
"Sanctuary" by Susan Palwick (Eclipse Online, 2/13) F*** (CR)
"Life on the Sun" by C.S.E. Cooney (Black Gate Online, 2-10/13) SF*** (LW)
"Monday's Monk" by Jason Sanford (Asimov's, 3/13) SF*** (JS)
"The Assassin" by Albert E. Cowdrey (F&SF, 3-4/13) SF*** (CR, DT)
"The Lost Faces" by Sean McMullen (F&SF, 3-4/13) F*** (CR, DT)
"Painted Birds and Shivered Bones" by Kat Howard (Subterranean Online, Spring 2013) F*** (BB)
"The Woman in the Moon" by Albert E. Cowdrey (F&SF, 5-6/13) SF*** (MR, DT)
"The Truth of Fact, the Truth of Feeling" by Ted Chiang (Subterranean, Fall 2013) SF*** (BB)
Novellas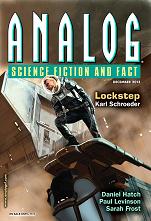 "The Boolean Gate" by Walter Jon Williams (Subterranean Online, Winter 2013) SF (CR)
"Time Out" by Edward M. Lerner (Analog, 1-2/13) SF (LW)
"The Matthew's Conundrum" by Ed Lerner (Analog, 11/13) SF (LW)
"Success" by Michael Blumlein (F&SF, 11-12/13) SF (CC)
Novellas One Star
"The Other Gun" by Neal Asher (Asimov's, 4-5/12) SF* (BB)
"Lune Bleue" by Janet Catherine Johnston (Analog, 10/13) SF* (JS)
Novellas Two Stars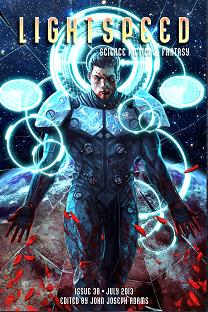 "The Weight of the Sunrise" by Vylar Kaftan (Asimov's, 2/13) SF** (CC)
"The Sealord's Successor" by Aaron B. Starr (Black Gate Online, March 3 & 10/13) F** (LW)
"The Indelible Dark" by William Browning Spencer (Subterranean Online, Spring/13) F** (BB)
"The Syndrome" by Brian Francis Slattery (Subterranean Online, Spring/13) F** (BB)
"The Queen of Eyes" by Rachel Pollack (F&SF, 9-10/13) F** (CR)
"Wakulla Springs" by Andy Duncan & Ellen Klages (Tor.com, 10/13) F** (LW)
Novellas Three Stars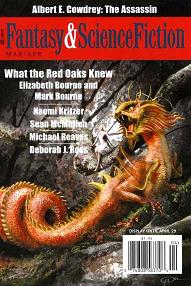 "The Prayer of Ninety Cats" by Caitlin R. Kiernan (Subterranean Online, Spring 2013) F*** (BB)
"Wormwood is Also a Star" by Andy Stewart (F&SF, 5-6/13) F*** (MR, DT)
"The Highwater Tower" by Aaron Bradford Starr (Black Gate Online, 7/13) F*** (BB)
"The Chaplain's Legacy" by Brad R. Torgersen (Analog, 7-8/13) SF*** (CR)
"The Discovered Country" by Ken MacLeod (Asimov's, 9/13) SF*** (BB)
"Hook Agonistes" by Jay Lake and Seanan McGuire (Subterranean, Fall 2013) SF*** (BB)