Tangent Online 2012 Recommended Reading List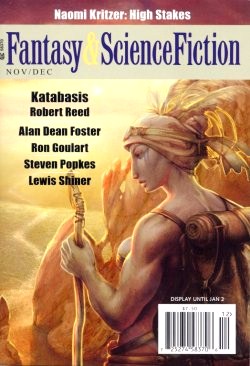 As with previous years, this list is not meant as comprehensive, there being several items we were not able to acquire and there are always the few stray stories published in non-traditional venues which we did not see. As was the case last year we narrowed our focus (with rare exception) to those stories published in professionally paying markets as defined by SFWA (5c/wd.).
As is our custom, there are four sections to each length category. Those making the list in the short story, novelette, and novella lengths but having no stars, and those with either one, two, or three stars, according to how well the reviewer or reviewers valued a particular story. Quite often you will see more than a single reviewer's initials following a given entry. We have placed the story in the category receiving the most stars. Thus, it is possible that while one reviewer merely placed a story on the list without any stars, another also placed it on the list but with one or more stars, thus elevating that story to the higher ranking. Where there are more than one reviewer's initials following a story recommendation, they appear in no particular order.
There are 256 stories on this year's list, up over 100 from last year (184 short stories, 50 novelettes, and 22 novellas). If a story is placed in the wrong length category, please let us know and we'll correct the oversight.
If you would like to review for Tangent Online, knowledge of the SF/F/H genres is a must, and reviewing experience is highly preferred. You may contact the editor here. Please note that Tangent Online is a fanzine and does not pay its contributors.
(Cover above by Cory & Catska Ench for F&SF, December 2012.)
Reviewer names and initials
Bob Blough (BB), Barbara Melville, (BM), Cyd Athens (CA), Colleen Chen (CC), Chuck Rothman (CR), Dario Ciriello (DC), Dave Truesdale (DT), Daniel Woods (DW), Jo-Anne Odell (JO), Joseph Giddings (JG), John Sulyok (JS), Louis West (LW), Matt Nadelhaft (MN), Michelle Ristuccia (MR), Richard Jones (RJ), Robert Waters (RW), Sherry Decker (SD).
I wish to thank the reviewers for the time and energy they devoted to reading and reviewing this year's offerings. Without them, no Tangent Online and no Recommended Reading List; they're the ones who make it all work.
---
Short Stories