Tangent Online Presents:
An Interview with Otto Penzler
(Interview conducted by email and concluded on October 24, 2010)
Interviewer Dave Truesdale
Introduction
For more than thirty years, Otto Penzler (b. 1942) has been recognized as the most knowledgeable and influential member of the crime writing community. His accomplishments are legion, and include hosting a series of great crime films for the Turner Classic Movies channel, editing more than seventy anthologies of crime fiction (both original and reprint), serving on the Board of Directors of the Mystery Writers of America for fourteen years, and being honored with the Ellery Queen Award for Lifetime Achievement. For a more complete list of his many credits we have included a biography following the interview.
Having spent most of my life involved in various aspects of the science fiction genre I was unaware of Otto Penzler until recently. I was searching pulp magazine websites for possible material for Tangent Online's The Pulp Magazines feature and I kept running across his name, or his The Mysterious Bookshop, via links from various websites. So I checked out The Mysterious Bookshop. I immediately became intrigued by the variety of books he had edited over the years — not only in the crime/mystery/detective genre — but in the horror, supernatural, adventure, and weird fiction genres as well. One thing led quickly to another. He readily agreed to an interview, and before long I was holding an Uncorrected Proof of The Black Lizard Big Book of Black Mask Stories, which hit bookstores in September. It is a massive anthology (it must weigh easily all of five pounds), runs to well over 1,000 small print pages, and collects over 50 of the very best stories from the acclaimed detective/crime pulp magazine Black Mask (1920-1951), including, for the first time ever since its five-part serialization in the magazine, the original version of Dashiell Hammett's classic novel The Maltese Falcon. (The book also features, among its carefully selected, and often un-reprinted stories from what amounts to the "Best Of" Black Mask, a number of stories by names familiar to science-fiction and fantasy readers:  Frederic Brown, Lester Dent, Hugh B. Cave, Ray Cummings, Cornell Woolrich, and C. M. Kornbluth.) The Black Lizard Big Book of Black Mask Stories will soon be reviewed at our The Pulp Magazines section. I've not finished it, not quite yet, but can assure the possible purchaser that it is worth every penny.
♦   ♦   ♦
Tangent: While you have been a familiar name for decades in the mystery, detective, and crime genres–and the pulp magazines devoted to these stories, and while there is some crossover among readers who also read science fiction and fantasy, many in the science fiction and fantasy genres are not familiar with you or your work. Would you care to fill folks in on who you are, what you do, and some of your background concerning the history of the pulp magazines; how you discovered them, what their fascination was for you, and why the mystery/detective/crime genre?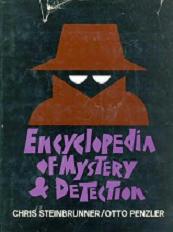 Otto Penzler: I co-wrote a book, the Encyclopedia of Mystery & Detection, which won the Edgar in 1977. I was collecting first editions of mystery fiction then, before there was much competition, and now have nearly 60,000 volumes—I'd bet the best collection in the world. I started a mystery publishing company in 1975, The Mysterious Press, and was the first to have limited, signed editions in slipcases for mystery writers. I opened The Mysterious Bookshop on Friday the 13th of April, 1979. I have edited about 70 anthologies, many of reprints but also many for which I commissioned original stories. The first short stories ever written by Michael Connelly, Thomas Perry, Robert B. Parker, Charles McCarry and others were written for my anthologies. After I sold The Mysterious Press to Warner Books in 1989, I published mystery fiction under the "Otto Penzler Books" imprint, first with Macmillan, then Carroll & Graf, and now with Houghton Mifflin Harcourt in America and Atlantic Books in England.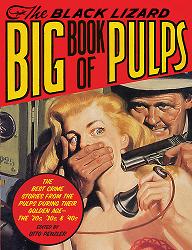 I collected pulps for a little while but the book collection was growing too fast and I had to sell them off because I needed the room. I read a lot, and also read the anthologies of pulp fiction, as well as individual author collections where possible. A British publisher knew of my affection for the pulps and asked if I could compile good, big collections of mystery stories from the pulps. These were published by Quercus in England with the generic title Pulp Fiction, and the three books individually titled Crimefighters, Villains, and Dames. Vintage, the paperback division of Knopf, then bought American rights to these three books and made the decision to publish them in a single giant volume. I thought the editor was crazy, since the U.K. books each exceeded 500 pages. He was right, I was wrong. The Black Lizard Big Book of Pulps made the N.Y. Times extended best-seller list twice and has gone through five printings.
Among my favorite mystery writers are Raymond Chandler and Dashiell Hammett, so it is no surprise that I went to the pulps to find more writers like them. Of course, none are as good, but there are plenty of terrific writers for the pulps.
Why mysteries? It's what I read for most of the past 50 years. I read science fiction as a kid, along with adventure fiction, though I somehow missed fantasy, sword and sorcery, and all of that. I've turned in another book to Vintage, The Black Lizard Big Book of Adventure Stories, and really liked reading Fritz Leiber, Robert E. Howard, and many others. I had a lot of guidance from people like Bob Weinberg and John Pelan and Harlan Ellison, since this wasn't an area of expertise for me.
Tangent: Your The Mysterious Bookshop, located in New York City, is billed as The World's Finest Mystery Specialty Store. When did you decide you wanted to run a mystery bookstore, how did The Mystery Bookshop come to be, and why do you think it has become so successful out of all the other bookstores of its kind?
Penzler: The bookshop was a happy accident. I was running The Mysterious Press from the kitchen table in my apartment in the Bronx and I could keep up with the workload. Since I couldn't afford the rent for an office or even an apartment with an extra room for an office, I wound up buying a building in midtown with a partner ($2,000 down). Since there was a lot of space, I thought opening a bookshop would be fun. That was my entire thought process. Fun! Who knew how much work it could be? Not I.
I think it became successful (and for a while it was very successful) because I worked 12-15 hours a day, seven days a week—enough to cost me my marriage. Also, I knew a lot, and I think customers knew that I really meant it when I said I liked a book. Also, as a collector myself, I worked very closely with other collectors and was able to help them put together some great collections. It was almost as much fun to assemble a great collection for someone else as it was to find books for my own collection.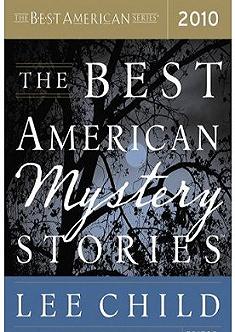 Tangent: You've been the series editor for The Best American Mystery Stories for just over a decade, with each yearly volume sporting a different editor. Have the different perspectives the various editors bring to the series broadened the scope of these anthologies and kept them fresh? I imagine you know the writers and editors in the field quite well, and are aware of their individual tastes in mystery fiction. What is your selection process for each year's editor?
Penzler: In truth, the guest editor has nothing to do with the process of selecting stories. My reader, the brilliant Michele Slung, reads through every consumer magazine, literary journal, short story collection and anthology searching for mysteries. She looks at 3,000-5,000 stories a year. She then sends me everything worthy of consideration. I boil it down to the 50 best mystery stories of the year (or, at least, the 50 I like best), and these go to the guest editor, who selects the 20 that make it into the book. I don't try to find stories I think the guest editor will like. But the contents are expectedly different if James Ellroy selects stories than if Sue Grafton or Nelson DeMille or Ed McBain or Joyce Carol Oates makes the picks.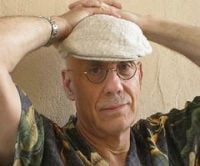 Tangent: You mentioned James Ellroy who guest-edited your The Best American Mystery Stories volume for 2002. He must surely be one of the most—for want of a better word–"colorful" contemporary mystery writers when it comes to his personal life: His mother's unsolved murder when he was a child, which led to his involvement with another unsolved murder, that of the famous Black Dahlia, which led to his novel The Black Dahlia and its eventually being made into the movie (which he didn't like); his outspoken political views, his arrogance about the superiority of his own writing, his living the life of a hermit (no television, etc.), and eschewing reading the work of others for fear it may influence his own genius. His bouts with alcohol and drugs, his psychological instability…the list seems endless. Yet he has written some brilliant work. What was your experience working with him as guest editor in 2002?
Penzler: I worked with Ellroy when I was his editor and publisher at The Mysterious Press, handling the Lloyd Hopkins trilogy and the first three volumes in his L.A. Quartet (The Black Dahlia, The Big Nowhere, and L.A. Confidential). I also edited and published a couple of his short stories, and then with him some more for Best American Short Stories 2002 and, just out, The Best American Noir of the Century. He's great to work with. He's one of the hardest working authors with whom I've ever collaborated, and a great professional. When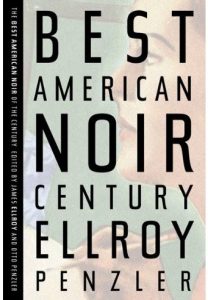 he says he'll deliver something in two weeks, he delivers it in 13 days. I'm not sure I'd use the word "arrogance" to define his vision of his own work. He's supremely confident, which is quite different.
Tangent: Michele Slung, your reader and researcher, reads 3-5,000 mystery stories a year. Aside from the two digest magazines the general reader is familiar with–Ellery Queen's Mystery Magazine and Alfred Hitchcock's Mystery Magazine–where do all of those mystery stories appear? What are some of the more reliable sources aside from the pair above? Mike Shayne's Mystery Magazine has been gone for a long time, hasn't it?
Penzler: Mike Shayne has been out of business for 30 years, so it's just EQMM and AHMM. In fact, we seldom use much from either of these magazines. Probably half the stories were first published in literary journals like Harvard Review, Texas Quarterly, Chatahoochie Review, Prairie Schooner, Kenyon Review, etc. Anthologies of original mystery stories have been good sources. Occasionally an author will have a collection of stories published with one or more original stories. A greater number of e-zine stories are making the short list, sites like Plots With Guns and ThugLit. A few general interest consumer magazines still run fiction, and we've used quite a few from The New Yorker, Harper's, Esquire, etc.
Tangent: Science fiction, in its earliest days, was generally defined much more narrowly than it is today. Today we have hard SF, soft SF, space opera, cyberpunk, steampunk, alternate history, military SF, and even the occasional thriller or detective SF, though the latter isn't formally defined as such. The same with fantasy; we have various subgenres including epic/heroic fantasy, sword & sorcery, urban fantasy, magic realism, and so on. In the heyday of the pulps there were numerous special niche magazines devoted to either mystery, crime in general, gang, police procedural, crime fighter, or detective fiction–some catering to several of these "subgenres" within the same magazine, at least for awhile. From an historical viewpoint, what were the best received types of any of the above detective pulp categories, which magazines were the best of their type, and which of these subgenres, given the ebb and flow of public taste, are in vogue now? Were there any obvious, discernible trends in which types of mystery or crime or detective fiction the writers–or the reading public–favored?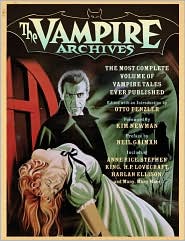 Penzler: I'm not an expert on all kinds of pulps (or, come to think, of any, compared with some of the folks I met when I was the Guest of Honor at PulpFest in 2009) and especially not in science fiction. I have no idea what steampunk is, for example, and don't want to know. Anything with punk as part of its name is not for me. Having now done a great deal of reading in the horror pulps—or, more accurately, horror stories in the pulps—for my big Vintage book The Vampire Archives, its forthcoming (Spring 2011) companion volume The Zombie Archives, and the book I'm working on now, which is ghost stories, it seems pretty obvious to me that in the shudder pulp world nothing touches Weird Tales, but you didn't need me to tell you that. In the mystery genre, of course it's Black Mask, with everything else a distant second, though Dime Detective had a lot of great stuff, too. The hard-boiled private eye story, made popular by Hammett, Carroll John Daly and others, mainly in Black Mask, was the most popular mystery in the 1920s, 1930s, and remains hugely successful today.
Tangent: Tell us about the book you just edited, which came out just a few weeks ago, The Black Lizard Big Book of Black Mask Stories. It's a mammoth tome at over 1,100 pages, includes a Foreword by you and a lengthy historical introduction by current Black Mask publisher Keith Alan Deutsch, and along with over 50 stories from the likes of Erle Stanley Gardner, Raymond Chandler, John D. MacDonald and Cornell Woolrich, among many other recognizable names, it sports—for the first time ever since its original magazine appearance—Dashiell Hammett's The Maltese Falcon. The intro to this novel says it was revised some 2,000 times for the book version. In your estimation, did all of these changes—from magazine to book—hurt or help the novel?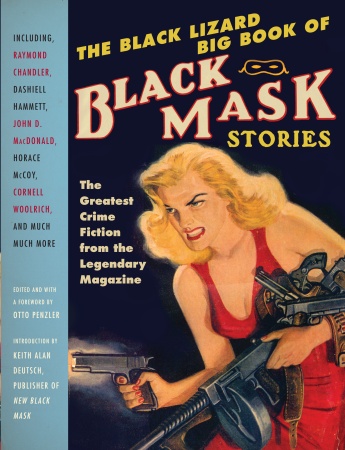 Penzler: Black Mask was, of course, the greatest of all the pulp magazines for crime fiction. The original issues are so scarce and expensive that most people can't afford them–not to mention that they are so fragile that they'd be likely to fall apart during reading. (The magazine, that is, not the readers.) With the help of Keith Deutsch and the librarians at UCLA (which has a great Black Mask collection) I got access to hundreds of stories and selected those that I thought were the best and most representative of the authors' works, of the magazine, and indeed of the whole pulp era. Very few of the stories are from the 1940s, when the quality level wasn't as high as in the 1920s and 1930s. Most of the stories have never before been reprinted. In addition to the famous authors you note, there are several stories by authors that only die-hard pulp fans will know, but many of their stories are at least as good as those by the biggest names.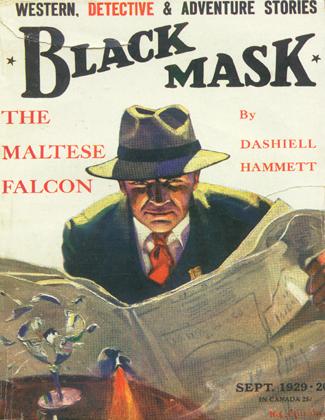 The Maltese Falcon was serialized in five issues of Black Mask. When it was published by Knopf, more than 2,000 changes were made. Most of the changes were made by Hammett, frequently changing one word for another, sometimes tightening a sentence. There were numerous places in which I preferred the original, and numerous others where I thought the changes improved the original. On balance, it's pretty much a wash and, truthfully, you would have to be a scholar or read the two versions side-by-side to see the differences. They're both really, really good.
Tangent: You recently attended the Frankfurt Book Fair. What was that like, and what were your impressions coming away? Lots of wheeling and dealing going on there I imagine. Anything you feel comfortable in sharing in regards to your own projects?
Penzler: I've been going to the Frankfurt Book Fair for about 25 years. It's mainly a rights sale, meaning publishers are either looking to sell foreign rights to their books or acquire books from international publishers that they can publish. I go only to sell rights, as I've never been any good at finding the right translators to do a good job. The business climate was so bad last year that I skipped it. I didn't have great hopes this year but wound up getting a half-dozen good editors interested in a couple of my anthologies (mostly Christmas at the Mysterious Bookshop), as well as in a couple of the authors I publish at Houghton Mifflin Harcourt (Thomas H. Cook and Andrew Klavan). Half of the best business is done at a late-night hotel bar in the Frankfurterhof, which is empty at 10:00 p.m. but elbow-to-elbow at midnight and later.
Tangent: Thank you very much, Otto.
Penzler: You're more than welcome, Dave.
 OTTO PENZLER BIOGRAPHY
Otto Penzler's achievements and contributions to the mystery genre are:
*Founded The Mysterious Press, a publishing house entirely devoted to mystery and crime fiction, in 1975. Among the authors it published (works published in America for the first time–not reprints) were Eric Ambler, Kingsley Amis, Isaac Asimov, Robert Bloch, James M. Cain, Raymond Chandler, Len Deighton, James Ellroy, Patricia Highsmith, P.D. James, H.R.F. Keating, Peter Lovesey, Ed McBain, Ross Macdonald, Ellis Peters, Ruth Rendell, Mickey Spillane, Ross Thomas, Donald E. Westlake and Cornell Woolrich. By the 1980s, it was publishing more than 100 titles a year and the imprint was affiliated with major publishers in England (with Century-Hutchinson-Arrow), Italy (Mondadori), Sweden (Bra Bocker) and Japan (Hayakawa). The Mysterious Book Club became a division of The Book-of-the-Month Club, and Mysterious Audios, an imprint with Dove Audio Books. He currently has his own imprint, Otto Penzler Books, with Houghton Mifflin Harcourt in America and with Atlantic/Corvus in England.
*Founded The Mysterious Bookshop, an independent store entirely devoted to mystery and crime fiction, in 1979. After 31 years, it remains the largest and most successful book store of its kind in the world.
*Hosted a television series of great crime films for the Turner Classic Movies channel.
*Co-authored with Chris Steinbrunner the Encyclopedia of Mystery and Detection, for which he won the Edgar Allan Poe Award, given by the Mystery Writers of America, in 1977.
*Edited The Lineup, selected by the New York Times as one of the Ten Best Books of the Year and won the Edgar Allan Poe Award in 2010.
*Wrote "The Crime Scene," a weekly column for The New York Sun (for nearly five years) and a monthly column for Hayakawa Mystery Magazine in Japan (for 25 years); has written several books and hundreds of articles about various aspects of the crime genre.
*Edited more than seventy anthologies of crime fiction, both of reprints and newly commissioned stories, including the prestigious Best American Mystery Stories of the Year.
*Assembled the world's finest collection of mystery fiction–60,000 first editions.
*Served on the Board of Directors of the Mystery Writers of America for fourteen years; was named Publisher of the Year by the Romance Writers of America; was presented with a Raven by the Mystery Writers of America (its highest non-writing award) and the Ellery Queen Award (for Lifetime Achievement).
Otto Penzler interview copyright © 2010, Dave Truesdale and Tangent Online. All rights reserved.