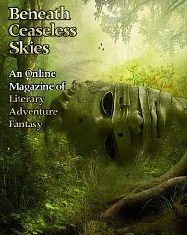 Beneath Ceaseless Skies #95, May 17, 2012
"The Governess and the Lobster" by Margaret Ronald
"Shades of Amber" by Marie Croke
Reviewed by Sherry Decker
"The Governess and the Lobster" by Margaret Ronald
Told through correspondence between Rosalie Syme and her employer, Matron Jenkins of the Jenkins School, we have a tale about a young governess sent to educate the four, intelligent but rambunctious Edgar Cromwell children. Things are difficult from the start, including Rosalie's long journey to Harkuma. Harkuma is very remote, and because of its unusual architecture, the enormous, cathedral style home offers only two atmospheres, agoraphobia or claustrophobia – too open or too enclosed.
Rosalie must deal with chronic windstorms and constant grit in her clothing. Harkuma has a large population of "awakened" automata. Some are large and some small, and they do not all get along. Travel between Harkuma and other cities requires a "facilis."
"[A facilis makes] his living by arranging contact between the various human merchants and the automata of Akkuma. If a person wishes to visit Akkuma, he must do so in the company of one of these faciles who will vouch for him, undertake the shipment of water, even make business connections, as well as monitor the entrepreneur's movements within the city and make certain that he adheres to all standards of conduct."
When Rosalie meets her new employer, Eutropius, the children's guardian, she discovers he is a massive automaton. Eutropius often hosts meetings with other automatons and the resulting noise keeps Rosalie awake at night.
In truth, I was wary of this tale at first. I do not normally care for stories told through correspondence. This one, however, won me over in the sixth paragraph. The odd atmosphere, the hints at Rosalie's early years in the warehouse district and the challenges she faces in Harkuma snared me. There is a suggestion of a possible romance but it is never developed. Suggestion was sufficient. There is no room for additional plots.
The correspondence between Rosalie and Matron Jenkins is intriguing. Jenkins remains unsympathetic while Rosalie deals with unnerving events at the Cromwell estate. Jenkins sounds more threatening than helpful, often referring to other governesses as "fainting nellies" because they failed at their assignments. She reminds Rosalie that her main duty is to establish a new Jenkins School in Harkuma, no matter what kind of resistance she encounters.
This story turned out to be quite entertaining, the characters captivating and the world-building clever, a unique mix of gothic and steampunk. I enjoyed it.
"Shades of Amber" by Marie Croke
In an unnamed city in an unknown world, the people communicate through color. Their skin flashes with shades and hues, ranging from deep, vibrant colors to soft pastels. The more pale one is, the lower their importance and stature.
Amm musters an amber color while her newborn brother is vibrant, his color range brighter than any other. At two months of age he is taken before the oldest and most powerful person, the Black Veil. The Black Veil names him Cerrune.
Amm is proud of Cerrune, but a little envious. Her love for him makes her defensive. She protects him from the aim of her parents to teach him absolute obedience to the Black Veil. She teaches him to be independent. Her parents hope he will someday become a representative, sent to another city as ambassador. The problem is, ambassadors never return. Except for the gifts and the technology they send back home, there is no evidence they are still alive.
Cerrune grows into a young man under the tutelage of the Black Veil. She wants him to be her successor because she is very old and can barely shade anymore, her colors almost gone. Because her colors have dulled she is growing mute and paralyzed.
Amm helps Cerrune with clandestine meetings with the young and beautiful Ferr. When the Black Veil learns of these meetings, she surprises everyone by encouraging them. But soon Ferr falls ill. Her colors fade. She wanders outside the city into the wild area where a beast lays in wait and she never returns. Amm braves the dangerous wilds and finds Ferr's body. Amm learns something startling about Ferr's illness.
Amm eventually confronts the Black Veil, counting on Cerrune to side with her, but he seems helpless, resistant, or uncaring. Amm must stand on her own even though her colors are weak.
There are some good descriptions and Amm's character draws reader sympathy, but there is nothing new about this tale and the ending was predictable.