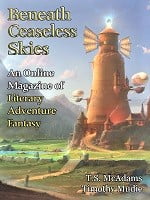 Beneath Ceaseless Skies #290, November 7, 2019
"The Gods Come to Sredna" by T.S. McAdams
"The Two Sides of Home" by Timothy Mudie
Reviewed by Victoria Silverwolf
A pair of tales featuring incarnated deities appear in the latest issue of this on-line publication.
In "The Gods Come to Sredna" by T.S. McAdams, gods are born into the world either as human beings, or as the offspring of tame dinosaurs. The narrator leads a dinosaur, which produced an egg that hatched into a god, away from a holy city. (The dinosaur god died before its mother did, so another pregnant dinosaur is taking its place.) Among the party accompanying the dinosaur is a god in human form. Along the way, the travelers encounter highwaymen who demand payment for passage. A guard asks the human god many questions, which lead to enigmatic answers. Upon arrival at the narrator's homeland, the human god decrees that the place needs a priest, leading to sudden violence and a change in the relationships among the journeyers.
As this synopsis indicates, the story is episodic. The exotic background is more interesting than the plot. The author manages to make the concept of a god in dinosaur form much less silly than it sounds. In essence, this is a simple coming-of-age story, set in a very strange fantasy world.
At first, the setting for "The Two Sides of Home" by Timothy Mudie seems like a mundane place, with trains and telegrams. It soon becomes apparent that this is a world ruled by rival gods, a Bull and a Moth. The story takes place in the appropriately named city of Twixt, which lies halfway between the realms of the two deities. The protagonist searches for her missing cousin, leading her into a violent struggle between acolytes of the gods, as they seek to transform a newborn larval god into the image of the deity they favor.
The modern setting and the informal style give this tale the feeling of an urban crime story. The author makes the bizarre twists and turns in the plot clear to the reader, avoiding any possible confusion. The cousin is an intersexed person, which plays a vital role in the war over the larval god. This is an interesting aspect of the story's theme of duality, but insufficiently explored. Some readers may be disappointed that the cousin always seems male, and is referred to only by male pronouns.
---
Victoria Silverwolf had a little too much wasabi on her vegetarian sushi tonight.