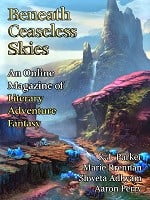 Beneath Ceaseless Skies #287, September 26, 2019
"Portrait of the Artist" by K. J. Parker
"Sankalpa" by Marie Brennan
"One Found in a World of the Lost" by Shweta Adhyam
"The Witch of the Will" by Aaron Perry
Reviewed by Michelle Ristuccia
Beneath Ceaseless Skies' 11th anniversary double issue contains four intriguing stories with female protagonists.
In "Portrait of the Artist" K. J. Parker plunges readers into the mind of a cynical, morally compromised magician-artist who knowingly endangers her portrait's subjects with each stroke of the brush. Opening with her haggling over the price of her illicit work, Parker evokes a wonderfully subtle desperation fed larger by carefully allocated bits of backstory. Learning our narrator's emotive motivations becomes an alluring adventure in philosophy as science and beauty as measurement, told by a woman whose intelligence is constantly underestimated by her dirt-poor family and rich customers alike, all of whom have more riding on her than they know. Parker's artful telling paints an engaging portrait of our narrator, displaying her callousness alongside her love and fear of loss.
"Sankalpa" by Marie Brennan follows the narrator through multiple suicides and reincarnations in their goal to end the life of Bhishma, protector of the Kuru king. From character names to chapter headings, each meticulously thought-out detail fits precisely into Hindu mythology, illuminating Brennan's alternate ending as if it had always been there. However, readers unfamiliar with Hinduism will have little to connect to and may find it difficult to sympathize with the narrator's single-minded revenge quest.
When Gayatri dies in "One Found in a World of the Lost" by Shweta Adhyam, twin Pavitra fears her timidness and her propensity for ancient song can't make up for the loss of Gayatri's bravery and hunting prowess; her people are doomed, having lost the wrong sister to spiteful Bhoomi. Meanwhile, it seems Gayatri faces a new adventure when she shoots a dangerous yakshini spirit, though she doesn't understand yet that she is dead. Adhyam weaves Hindu mythology seamlessly into a touching tale of survivor's guilt where two very different souls contrast to show the true meaning of bravery and the needs of the community.
In "The Witch of the Will" by Aaron Perry, a hedgewitch decides to make a name for herself by prophesying the king's every remaining action, thereby stealing his will from him. When a young man comes to her asking that she do the same for him, the Witch of the Will finds herself in a battle against fate—the fate of the young man, written out by her own hand, and the fate of all witches, of a soulless death separate from damnation and paradise alike. Coming full circle at the end, "The Witch of the Will" examines how free will and responsibility are irrevocably tied together despite the limits of individual potency imposed by nature and, indeed, the wills of others around us.
---
Michelle Ristuccia enjoys slowing down time in the middle of the night to read and review speculative fiction, because sleeping offspring are the best inspiration and motivation. You can find out more about her other writing projects and geeky obsessions by visiting her blog.