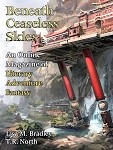 Beneath Ceaseless Skies #279, June 6, 2019
"Revival" by Lisa M. Bradley
"Silver Springs" by T.R. North
Reviewed by Tara Grímravn
"Revival" by Lisa M. Bradley
A preacher who can heal the infirm has set up a revival tent on land owned by Carmen's uncle. Carmen, who suffers from a skin condition, goes to see him. She's terrified of him, though. The very sight of him fills her with dread and she nearly faints at the thought of being called on by him. Fortunately, she's saved by a handsome, gray-faced man named Swift who, seeing that she's ill, leads her out of the tent into the fresh air. He's been following the preacher, hoping that perhaps the traveling miracle worker might be able to help him with his troubles. When the preacher moves on, a spark of romance with Carmen has made him decide to stay. As their love grows, it becomes clear just what Swift was running from.
The first thing to jump off the page at me in Bradley's story was the writing style. The sense of alliteration present throughout was nice. It was more obvious in places like the opening paragraphs than others but still made the reading feel lyrical and flowing.
Something else that really caught my attention was Bradley's careful weaving of many elements common to folktales and fairy tales into her tale. Overall, the story feels like it has strong roots in traditional storytelling and it would seem that she draws on many sources for inspiration. For example, the scene in which the two shadows are talking about stealing souls while Swift listens in horror reminds me of a Hispanic folktale I once read about a drunk man who passes out in a cemetery. When he wakes, he overhears two thieves discussing their haul and, mistaking them for demons talking about stealing souls, swears off drinking for good. That's not exactly the situation Swift encounters in "Revival" but the premise is similar. Also, while it wasn't explicitly stated, Carmen's mother's rebozo provided a form of magical aid and protection, something very common in fairytales, as is the calling in of companions (Carmen's cousins). It's this combination of things along with love, both familial and romantic, that helps them prevail in the end. I really quite enjoyed this story.
"Silver Springs" by T.R. North
In the early 1900s, the narrator, a young lady with a penchant for stealing, is taken by her parents to a special hotel in Florida that deals in the eradication of vice in a most unusual way—mermaids. Along with other clients aboard the hotel's glass bottom boat, she gives a mermaid a silver coin meant to represent her unfortunate habit, only to have the mermaid try to pull her into the water. Once back at the hotel, the narrator discovers that the mermaid isn't finished with her just yet.
What I found particularly fascinating about North's story is the particular combination of mythological elements that make up the tale. This isn't just another run-of-the-mill mermaid story starring shipwrecks and sailors or even a re-telling of Hans Christian Andersen's The Little Mermaid. This is something else entirely unexpected.
Starting with the setting, Florida is associated with mythological wonders such as the Fountain of Youth, and its swamps and waterways have a plethora of associated legends so the location is very apropos. To be honest, I don't think the story would have worked quite as well if it were set elsewhere. Surrounded by pristine spring waters and tropical vegetation, I could easily see how the narrator could liken alligators to dragons upon seeing them for the first time, making the rumors of a "magical cure" for her thievery seem all the more plausible. It just would not have had the same effect if it were to take place in Massachusetts or California.
Moving on to the proverbial star of the show, although I'm not familiar with any mermaid folklore specific to Florida, there are many legends worldwide about this mystical creature that speak to their capacity for help or harm. Combined with the coin offering, North's story winds up as a really interesting twist on wishing wells and the ancient belief that by making an offering to a local water spirit (which mermaids are often considered to be), a person can obtain mystical assistance in whatever they desire.
Of course, there was one hole in the narrative that I noticed. It was the unexplained concern that the locals had over the altercation on the boat, which plays a role in the ending. This could have been alleviated had there been a little more elucidation on the nature of the mermaids by the captain or the crew near the beginning, as clearly this isn't a new phenomenon—the mermaids have been there a while and the locals have been coexisting with them for some time. While I understand that being vague on this point was likely done to create tension, a little more detail on the nature of mermaids as the locals understood them would have been useful. The small mention of their diet, which left the possibility open that humans could be on the menu, wasn't quite enough to solidify a strong sense of danger for anyone involved, nor was it enough to explain why the crewman pushes the narrator into the water as if she had created a dangerous situation for the obviously frightened locals.
Regardless of this small point, however, it was a great story and one I definitely recommend reading.