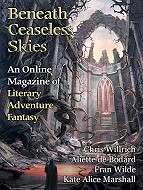 Beneath Ceaseless Skies #261, September 27, 2018
"Shadowdrop" by Chris Willrich
"Court of Birth Court of Strength" by
Aliette de Bodard
"Ruby, Singing" by
Fran Wilde
"We Ragged Few" by
Kate Alice Marshall
Reviewed by Gyanavani
Since Beneath Ceaseless Skies is celebrating its 10th anniversary, it has printed two double issues consisting of four stories each. The first issue which I review below was a pleasure to read. Before I tackle each of these stories independently I would like to say that the issue as a whole is superlative and I found it quite exciting to read. A word of advice: a couple of these stories are novella-length pieces; please give yourself the time to settle in and enjoy. Also each of these stories builds a complex world that I found it hard to condense meaningfully. I have therefore only given the bare plot leaving you to discover and enjoy the imagination of these writers.
Chris Willrich's novella "Shadowdrop" tells the story of a magic-imbued daredevil of a black cat. Shadowdrop as she is called, lives in Archeopolis, a city where of late outlandish beasts have begun to haunt its streets and where of a sudden black street cats have begun to disappear. These events pique her curiosity but she is only galvanized into action when her human friend, a ten-year-old child called Tru, vanishes. As she searches for her friend, Shadowdrop learns that these and other unconnected events are all part of a master plan laid by an evil magician who wants to destroy this hodgepodge of squalor and grit, of splendid mansions and dilapidated statues that this world calls Archeopolis, and in its stead build another that she would fully control.
This is a fast paced, intricately plotted story, but what sets it apart is Shadowdrop, who is one of the most exciting alien characters that I have come across in recent years. Chris Willrich presents Shadowdrop's feline thoughts in English and describes every physical movement she makes to keep her alien nature always at the fore.
The next story, "Court of Birth, Court of Strength" is by renowned writer Aliette de Bodard. The action of this tale takes place in post-apocalyptic Paris, a Paris governed by a half dozen or so political Houses. These Houses have many dependents, some powerless like children and some with magical beings, the Fallen, who are the angels that joined hands with Satan.
The novelette opens with a minor Fallen, Samariel, of the Court of Strength of House Hawthorn, meeting the head of the Court of Birth of the same House, a powerful Fallen called Asmodeus. Samariel, when not on duty taking care of minor security details at House functions, tutors a ten-year-old orphan child, Eglantine. Twenty-four hours ago Eglantine had disappeared. She had last been seen with a minor official from Asmodeus's Court. So begins an intense search through the ruins of Paris where plot and counter plot unfold to show how the Houses, instead of rebuilding, continue to destroy.
It should have been a powerful story. It fails because the writer is trying to pack too much in too short a space. It is obviously a detective story. It is also a story of shattered illusions, a story of grand sacrifice, a love story, and finally the story of that moment in time when a rule abiding person becomes a rebel. Neither Samariel nor Asmodeus are strong enough to carry this heavy a burden.
Fran Wilde's story, "Ruby, Singing" is told in the first person by Mira, the girl who can hear gems sing. She is lured by Brac's talk of gems calling out to him into leaving a loving but restrictive home. In a very time Mira understands how false her lover has been but finds that her shame binds her to him.
It is an old story of a woman betrayed by a false lover and her final revenge. I liked the idea that the first person narrative is a map into the deepest desires of the heart as well as a physical location. But this world where gems sing and attract the attention of specially attuned personalities falters because of its very small cast. It is only Mira and Brac who walk on this earth. All the rest, we have to assume, sit in their houses within the safety of the town walls.
"We Ragged Few" by Kate Alice Marshall tells the story of warrior woman Reyna as she struggles to keep her pregnant sister Imri, her beloved husband Evahr, her warrior friends and others, safe from a deadly peril. When their clan leader, Talgrun, refuses to believe her, she decides to leave clandestinely with her household and a few friends. But such an act is an act of treason in the eyes of her chief who captures her and sentences her to death. Reyna escapes this fate and, followed by a ragged few, sets out in search of a new and hospitable land.
Kate Alice Marshall creates a breathtakingly dense dystopian world of accursed humans barely able to procreate and seed new generations with great precision. She also introduces an alien species, graylings, and deals with the biology of acceptance and rejection and the politics of dominion and slavery.