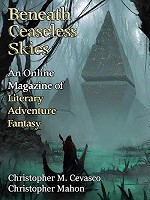 Beneath Ceaseless Skies #257, August 2, 2018
"A Legacy of Shadows" by Christopher M. Cevasco
"Old No-Eyes" by Christopher Mahon
Reviewed by Victoria Silverwolf
Both stories in this issue feature dramatic confrontations between two characters, although the outcomes are quite different.
The protagonist of "A Legacy of Shadows" by Christopher M. Cevasc is the child of a man and an elf-like being. (The author uses the word "woodwere" to describe her kind, but the similarity to the traditional elf of fantasy fiction is unmistakable.) His family was slain by demonic creatures called Defilers when he was an infant. Raised by the woodwere, but never fully accepted by them, he grows into a wanderer, seeking out Defilers to kill. During one of his journeys he reaches a human village near an ancient fortress. The keep is inhabited by one who is half-human and half-Defiler. The villagers hire him to destroy the half-breed. When he enters the fortress, he discovers the true nature of his intended enemy, and reveals much about his own past.
Although the author creates a richly detailed fantasy world, as well as fully developed characters, the outcome of the story is obvious almost as soon as the two main characters meet. The background will seem very familiar to readers of heroic fantasy.
"Old No-Eyes" by Christopher Mahon is set in a fantastic version of the Far East. In this world, certain persons seek immortality by way of magic and mathematics. Two such people meet in a tea room. Many years ago, there was bad blood between them. One is now a pauper, the other wealthy. The rich man needs the poor man's help in interpreting a mysterious, anonymous book that may hold important information relating to eternal life. Part of it is written in an indecipherable code. Unlocking its secrets involves contacting a dead man. Eventually the truth is revealed, leading to a final conflict between the two.
The author shows great imagination. The story's fantastic content is unique. The sudden change of tone in the story's climax is disconcerting.
---
Victoria Silverwolf finds it oddly amusing that both authors have the same first name.