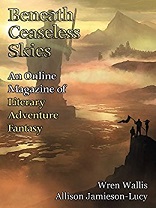 Beneath Ceaseless Skies #227, June 8, 2017
"Two bodies in basting stitch" by Allison Jamieson-Lucy
"

After Burning" by Wren Wallis
Reviewed by Alexandros Zochios
In "Two bodies in basting stitch" Deputy Commissioner Sere Gulliarme is under trial for the conspiracy against the throne. She will face a death sentence for treason unless she proves that she is bonded with her partner Tashet Vankata, the high alchemist.
The central theme in Allison Jamieson–Lucy's short story is what a literal bond, or a life-lacing as she describes it, would have between two partners.
Apart from its positive effects on both partners' health (such as long lasting youth), their life is dependent on each other.
Specifically, if one partner is killed then simultaneously the other person will lose her life as well. Therefore, Tashet, Sere's lover, is at risk of dying if Sere is put to death.
However, a matter that is only touched on its surface is that the bond between two women in not recognized legally—something that could have been explored more as an issue in their society. Tashet and Sere don't have papers to prove their life-lace to the court. Therefore, the danger of Tashet losing her life is more imminent. Readers will be anxious to find out if Tashet will find a way out of this problem.
In "After Burning," Almas and her wife Lidat have moved their clinic in their home after the original was burned down during the big seize. However, they get a visit from the Sons of Maret because they treat the wounds of their enemy. This is war after all.
In Wren Wallis' story we see a world with fantastical elements, we see a world with tormented souls. But what we also see is the war. A war that is very similar to our world. It would be hard not to see the situation that the two carers are left with in what is happening in today's Syria. We've all seen the pictures: hospitals bombed, bricks from walls scattered all over a surgical table, children's faces covered in blood, doctors begging for assistance, and pleading not to harm the patients and leave the clinics alone. This is what Almas and Lidat plead for. And when the Wolf comes, the person who take cares of what other soldiers cannot, they are afraid of his ruthlessness. Although the story takes some time to develop, first by introducing us to characters that are not as important as one of the main characters—such as the Wolf is, soon we are immersed in the world of conflicting ideologies and people trying to making a stand. A world that seems bigger than the story describes, it focuses on specific people affected by the war and its unexpected sides.