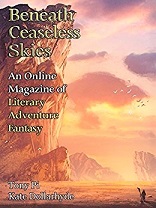 Beneath Ceaseless Skies #224, April 27, 2017
"That Lingering Sweetness" by Tony Pi
"A Marvelous Deal" by Kate Dollarhyde
Reviewed by Victoria Silverwolf
This issue of the online fantasy magazine from Editor-in-Chief Scott H. Andrews features two stories written in a clear and readable style, unlike the more literary tales usually found within it. Otherwise, they are very different.
"That Lingering Sweetness" by Tony Pi is one in a series of stories about a maker of candy animals in a fantastic version of ancient China. Not only can he manufacture caramels in the shape of creatures from the Chinese Zodiac, he has the ability to communicate with the spirits represented by these animals. In this adventure he encounters a tea shop where an extremely valuable cache of very rare tea, reserved for the Emperor alone, has been hidden after being stolen. The spirits of Goat and Monkey have placed opposite curses on it, so it can neither be returned to its rightful owner nor claimed by the finder. The protagonist tries to solve this dilemma by inviting the two opposing spirits to debate the merits of their cases, which he will judge. Given the great power of the spirits, this is a dangerous procedure, and the hero must use all his wits to confront them. The story is written in a calm, elegant style which entices the reader into its mythical world.
"A Marvelous Deal" by Kate Dollarhyde also has the unadorned style of a folktale, but is much more intense. A young girl has lost both her parents to disease. (Both parents are women. We soon find out that another family also consists of two women with a daughter. The reader is likely to assume that this is a fantasy world populated only by females, but in one brief passage there is mention of an old man. The sex of the parents, and of the otherwise unexplained man, is not relevant to the plot, so this seems odd.) In any case, the girl pulls a carrot out of the earth which turns out to be a talking, ravenously hungry being who demands that she hunt for a rabbit it can eat. In exchange, the carrot will bring her two mothers back to life. This bizarre turn of events may suggest that the story is a comedy; if so, it's a very dark one indeed. Events soon become much more sinister, and the girl makes a decision that many will find shocking. This story is certainly an original and imaginative one, if not as engaging as the other.
---
Victoria Silverwolf lives on a wooded hilltop in the southeastern corner of Tennessee with one human and sixteen cats.