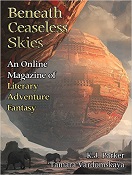 Beneath Ceaseless Skies #192, February 4, 2016
"Told By An Idiot" by K. J. Parker
"
The Three Dancers of Gizari" by Tamara Vardomskaya
Reviewed by Kat Day
In "Told By An Idiot" by K. J. Parker, our protagonist is a theatre-owner and businessman who deals in rare objects. At the beginning of the story an unscrupulous character who goes by the name of Master Cork arrives with a collection of items to sell. Our protagonist buys what purports to be King Solomon's ring, fully intending to sell it at a generous profit, and Master Cork "throws in" a demon in a bottle. Later, our hero remembers a bottle he found as a boy which contained a scrap of paper, and decides to open his newly-acquired container. And so, inevitably, his problems begin. This story could trundle down very well-worn routes, but it manages to approach an old idea with a fresh perspective. It weaves between the mysterious bottle, tales of playwrights and theatre productions, and reminiscences of the past. The descriptions nicely conjure up images of an older time, although there are places where the dialogue feels a touch anachronistic. There is a sense of ambiguity about the events that unfold, and it is perhaps a bit of shame that this isn't maintained: the ending feels just a little too neat.
In "The Three Dancers of Gizari" by Tamara Vardomskaya, accountant Bethenica Morning travels to Halispell on behalf of her extremely wealthy employer, Nahemiah Froll, with the intention of purchasing a statue: The Three Dancers of Gizari. This piece of art has previously been rejected by the Public Opera for being obscene; Nahemiah covets it because, as she says, it shows "women looking happy, unabashedly, unashamedly happy!" So Bethenica makes the journey, and tries to bargain with the sculptor but, of course, things don't go entirely to plan. This is an interesting tale and it's refreshing to see female characters front and center in a story. The descriptions of the statue's power are believable and the dialogue is realistic. In particular, it's very easy to relate to Bethenica's character: her sense of feeling slightly out of place is captured well. The ending is satisfying; I finished this story with a smile on my face.
---
Kat Day writes a successful, non-fiction science blog called The Chronicle Flask, which you can find at thechronicleflask.wordpress.com. She has a doctorate in chemistry and taught the subject for over ten years, but her first love was always science fiction and fantasy. She hopes to finish her novel one day, if she can get the kids to sleep. She lives in Oxfordshire, in England, and would like to apologize in advance for any stray letter u's in her reviews.