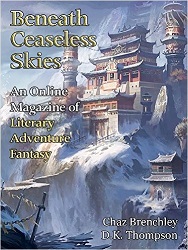 Beneath Ceaseless Skies #191, January 21, 2016
"In Skander, for a Boy" by Chaz Brenchley
"Blessed are Those Who Have Seen and Do Not Believe" by D.K. Thompson
Reviewed by Christos Antonaros
In the fantasy short story "In Skander, for a Boy" by Chaz Brenchley, Harlan is following his king's order and travels to the distant land of Skander to bring back the rightful heir to the throne. During his quest, he spends time in the port city of Iskandria and faces a lifestyle different from his everyday life back home. Soon, he is drawn into a big dilemma, which tests his devotion to the crown and his principles.
By using realistic dialogue, the author manages to give an accurate portrait of his characters. Also, the landscape's description is shady, gray, and represents the main theme successfully. The backstory, though, is not as strong, for it gives only a glimpse of a long and stimulating history of war and treachery.
In the second short story, "Blessed are Those Who Have Seen and Do Not Believe" by D.K. Thompson, we come across Elijah, a practical spiritualist, and his vampire friend, Magdalena, both of them studying the unknown spiritual world. By using his goggles, which allow him to observe the spirit world, and with the help of his immortal friend, Elijah is investigating the possible presence of an angel in London. Even though they have different motives and beliefs about the existence of the Biblical creature, they come to discover hidden truths from the ones they have already studied.
Through this story, we are entering a parallel world, where ghosts are using mortal bodies to achieve personal satisfaction. It has a dark background, stunning action scenes, but the ending is disappointing. While the main character takes part in a fascinating story, he deserves a more detailed explanation of his final actions.
---
Christos Antonaros is a dark fiction author with a love for European mythology.