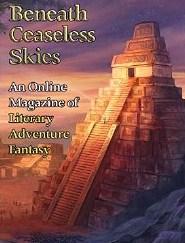 Beneath Ceaseless Skies #161, November 25, 2014
"Sweet Death" by Margaret Ronald
"We Were Once of the Sky" by Yosef Lindell
Reviewed by Chuck Rothman
"Sweet Death" in the November 25th issue of Beneath Ceaseless Skies involves the murder of a kobold, a race of bigfoot-like humanoids in a land where humans are not the only race. Arthur Swift is called out to a crime scene and find the murder weapon is a pot of honey. It may be tied in with Isto, an Ursa Davala—a giant, bear-like race who are furious warriors. Swift has some respect among the Ursa Davala, having fought one in a challenge as part of their rules of honor. But he's not sure if that respect will help if the evidence points to Isto. Margaret Ronald has done a nice job of creating a world with multiple, believable races, and the mystery has a fair ending that keeps you guessing.
Yosef Lindell contributes "We Were Once of the Sky," about a group of aliens called the Beta who live among humans in Medieval England. Kev is one of them, scornful of his own past and hopeful that alchemy might give him some answers, as they fight prejudice and the Plague. It's a very clever setup: we see Kev's reactions through 21st century eyes and know more than him about what's happening and where he is going wrong. I found Kev to be a compelling character, since we can see how he's right and also very wrong. Definitely first-class reading.
---
Chuck Rothman's novels Staroamer's Fate and Syron's Fate were recently republished by Fantastic Books. His story, "Ulenge Prime" recently appeared in Analog.