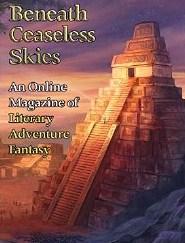 Beneath Ceaseless Skies #159, October 30th, 2014
"Drawn Up From Deep Places" by Gemma Files
"The Burned Man" by Hannah Strom-Martin
Reviewed by Michelle Ristuccia
This issue of Beneath Ceaseless Skies features two dark fantasy pieces that tackle themes of consent and revenge.
The ghost of former Captain Rusk, Captain Jerusalem Parry's former lover, isn't the only thing haunting the captain and his ship in "Drawn Up From Deep Places" by Gemma Files. Parry must come to terms with his own nature in order to discover the secret behind lovely castaway, Miss Attesee, before it destroys him and his ship. Files plays on our fear of the Other in this complex tale of supernatural temptation.
"The Burned Man" by Hannah Strom-Martin details The Burned Man's quest for revenge after his best friend, the king, cuts off his hands for consorting with one of the king's harem. The theme of consent comes in smartly towards the end of the Burned Man's cautionary tale of betrayal and hate. Strom-Martin draws from Hinduism to build an interesting theology and setting, but uses a stilted tale-within-a-tale format to present the main events.
---
Michelle Ristuccia enjoys slowing down time in the middle of the night to read and review speculative fiction, because sleeping offspring are the best inspiration and motivation. You can find out more about her other writing projects and geeky obsessions by visiting her blog.