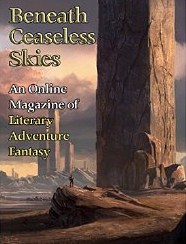 Beneath Ceaseless Skies #153, August 7, 2014
"Five Fruits I Ate in Sandar Land" by Michael Haynes
"Make No Promises" by Rachel Halpern
Reviewed by Charles Payseur
A young man tracks his would-be bride, Rose, across foreign lands to save her from an unsavory fate in Michael Haynes' fantasy "Five Fruits I Ate in Sandar Land." Desperate to find his betrothed after her father broke their wedding agreement and sold her into slavery, the main character fights hunger and desperation as he travels through Sandar, his journey marked by the fruits he eats, each significant event paired with its own flavor. And with the help of his brother and a particularly potent berry, he manages to succeed in his quest, though he doesn't get to really enjoy it. Potently told and novel in its use of the fruit to bind the scenes together, the story nearly succeeds in overcoming the rather tired trope of a man trying to save a woman from sexual violence. Unfortunately, I never really felt that the Rose was more than her namesake, a pretty thing but lacking in terms of personality and agency. Though full of potential, the story didn't quite come together as much as I would have liked.
Mandeva, the younger daughter of a powerful and magical ruler, can see the future but not how to change it in "Make No Promises," a fantasy by Rachel Halpern. Growing up in the shadow of both her mother, the prince of their city, and her sister Lydie, Mandeva alone possesses the gift to see the future. For all she knows that her sister will someday betray her, though, and kill their mother and stab out her eye, Mandeva has no insight as to the reasons for these actions. And it is the reasons that plague her, that make her yearn for a better way. All her attempts to alter the future end in failure, and her sister kills her mother and stabs her eye out and Mandeva is faced with the knowledge that Lydia will die in a dungeon and that she will live her days alone. Except that when the time comes to leave her sister for the last time, Mandeva makes a decision that surprises even herself, and finds that changing the future might start with changing her own actions. A moving piece, the story sets the stage and conflict well, and while it does drag a bit in places, the reward of reading the ending was well worth the wait.
---
Charles Payseur lives with his partner and their growing herd of pets in the icy reaches of Wisconsin, where companionship, books, and craft beer get him through the long winters. His fiction has appeared at Perihelion Science Fiction, Every Day Fiction, and Dragon's Roost Press.