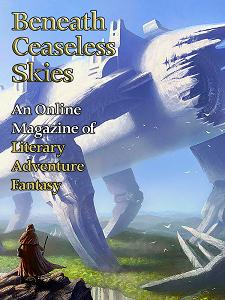 Beneath Ceaseless Skies #147, May 15, 2014
"We, As One, Trailing Embers" by E. Catherine Tobler
"Here Be Monsters" by Carrie Patel
Reviewed by Charles Payseur
A circus freak-show is the scene for murder, destruction, and a strange transformation in "We, As One, Trailing Embers," a weird fantasy by E. Catherine Tobler. Idalmis, a single name for a pair of conjoined twins born with monstrous deformities, spends its days as Beauty and the Beast, one twin withered and bad, one pristine and good, and yet both hiding their nature, that they must consume people in order to survive. It's an arrangement that has always worked for them on the road, but as the circus settles into one place, questions begin to be asked about the missing people who share one thing in common, that they were all last seen with Idalmis. A trail of bodies follows until everything comes crashing down, and yet as the story describes, "sometimes a thing must die before it can live." Lyrical and bizarre in places, the story provides a very interesting and intimate look at Idalmis, with some striking imagery and a haunting tone. Though a little opaque in places, the story was a strange and enjoyable read.
A man trapped on a deserted island must contend with monsters and a stranger not quite what he seems in Carrie Patel's horror-tinged fantasy "Here Be Monsters." The narrator has been driven a bit mad by his time on the island in constant vigilance for the abyssi, huge creatures from the sea that devour light and ships and men alike, and he is met by Lee, a stranger who doesn't seem quite right. Lee rouses the narrator from his inaction, though, and draws him into a plot to kill an abyssus, something never done before. At the end of the long night, the narrator finally finds the resolve to act, though not quite as Lee expected. A suspenseful tale, with a nice sense of isolation and desperation, the story managed to be both a monster story and a psychological study, though I wasn't completely sold on the ending.
---
Charles Payseur lives with his partner and their growing herd of cats in the icy reaches of Wisconsin, where companionship, books, and craft beer get him through the long winters. His fiction has appeared at Perihelion Science Fiction, Every Day Fiction, Dragon's Roost Press, and is forthcoming from Wily Writers Audible Fiction.