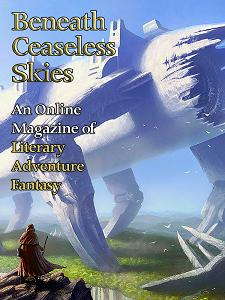 Beneath Ceaseless Skies #146, May 2014
Reviewed by Charles Payseur
A family has its share of secrets in Nicole M. Taylor's "The Lighthouse Keepers," a historical fantasy revolving around a pair of sisters and their lives caring for a lighthouse and each other. Revealed piecemeal, out of order, the story centers on Mona, serious and competent, and Beatrice, coddled and wild, as each falls into the roles expected of them. When they discover Warwick, a soldier injured and washed up on their island, Mona cares for and eventually marries him. Life is not as idyllic as it appears, though, and both Mona's nearly smothering competence and Beatrice's childish irresponsibility slowly eat away at the family as each member fails to find fulfillment in their lives. A moving portrait of disfunction, the story was perhaps a bit lacking in fantastic elements for my taste, but the interesting structure and excellent character work made it well worth the read.
Andrea Stewart weaves a tale of opium dreams and harsh realities in the Chinese-tinged historical fantasy "The Dreams of Wan Li." A bastard born into service at an opium den, Ling finds his prospects incredibly limited, faces the knowledge that he might never pay off his debt to Chen, the den-master. Along with Wan Li, a young and ambitious girl, Ling cuts purses but dreams of a day when he might be free to live off the land. As the two children grow, though, and Ling works in the poppy fields while Wan Li becomes a flower girl, seeing to the pleasures of the men in the opium house, their futures seem out of reach, accessible only through the vivid visions in smoke that the opium brings. Dreams become something of a reality when Wan Li finds a way to better herself, and in doing so shows Ling that his hopes might be only smoke after all. Ultimately, the story is optimistic in the face of ugliness and greed and pain, and though Wan Li and most of the characters in the story believe there is no use in trying, Ling discovers the rewards of taking action to make his dreams his reality. A compelling read despite a rather obvious ending, the story moved well throughout and provided a good insight into the lives of its characters.
---
Charles Payseur lives with his partner and their growing herd of cats in the icy reaches of Wisconsin, where companionship, books, and craft beer get him through the long winters. His fiction has appeared at Perihelion Science Fiction, Every Day Fiction, Dragon's Roost Press, and is forthcoming from Wily Writers Audible Fiction.