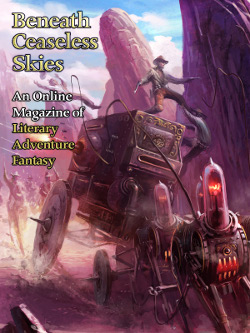 Beneath Ceaseless Skies #103, September 6, 2012
Reviewed by Chuck Rothman
I've been reviewing Beneath Ceaseless Skies a lot in the past few months and their September 6 issue is the strongest of the lot.
"When Averly Fell from the Sky" is set in a dark, steampunk England. Dean Wells concentrates on the dirt and grime of the era with the story of Marcel Saint-Jean, a photographer whose carriage ended up in a canal. He's fished out by Doc Faversham, who formerly constructed mining robots, and now has made Saint-Jean his prisoner. As to why — well, that's what the story is about. This mixture of steampunk and horror goes in surprising directions and is not just content with solving a mystery, but of showing its ramifications.
Don Allmon's "Bandit and the Seventy Raccoon War" takes place in a fantasy setting in the middle of a war, during an attempt to attack Cesler Grange. The Grange can usually fend off these attacks, but Jacsen discovers that the attackers have hired a witch, which means all bets are off. With a young boy he rescued, he tries to defeat the witch. Jacsen has some hidden secrets — hidden from himself as well as everyone else — that come in to play in the battle. Good characterization, a clear prose style, and a strong plot combine to make this story a winner.