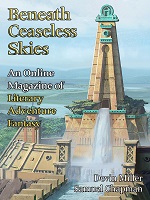 Beneath Ceaseless Skies #358, June 16, 2022
"Different Kinds of Thorn" by Devin Miller
"Forte" by Samuel Chapman (non-genre, not reviewed)
Reviewed by Kevin P Hallett
The 358th issue of Beneath Ceaseless Skies has two short stories, including one novelette, which didn't get reviewed because it lacked any speculative elements to the plot.
"Different Kinds of Thorn" by Devin Miller
City guardswoman Kellan decides to pass through the forest on her way to her parent's village. The Apple Orchard King has threatened her family, so she goes to protect them. But the forest is a dangerous place, and she soon finds herself at the mercy of Cedar, the Queen of the forest dryads.
Kellan convinces Cedar that she will return and stay with her for one night in return for free passage. However, soon after leaving the dryad queen, Kellan sees the Apple Orchard King, who is seeking a meeting with Cedar. A sense of wanting to help the dryad queen draws Kellan to follow the king, despite Cedar's earlier warning not to interfere with any of her plans.
The prose was acceptable, but the plot was predictable.
---
You can follow Kevin P Hallett's writing on www.kevinphallett.com. There are links there to join his mailing list for a weekly newsletter.