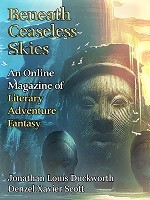 Beneath Ceaseless Skies #342, November 4, 2021
"No Say" by Jonathan Louis Duckworth
"The Black Rainbow" by Denzel Xavier Scott
Reviewed by Kevin P Hallett
The 342nd issue of Beneath Ceaseless Skies has two good short stories.
"No Say" by Jonathan Louis Duckworth
Tadie lives in the Stead with her father, a stringent Say follower in this short fantasy. When Tadie's younger brother disappears, her father drags Tadie out with others to find and kill him in the Wilderthere.
Beyond the Stead, in the Wilderthere, deadly witchspawn inhabit the volatile land, but Tadie breaks away to find and save her brother. However, the Wilderthere has its own rules for who survives and who doesn't.
The well-constructed story was an entertaining read as the author maintained an engaging pace throughout.
"The Black Rainbow" by Denzel Xavier Scott
In this short fantasy, Toth is a nexian of death which she brings to the orphanage that rescued her as a baby. Born of a mother who had died three days before, Toth can survive by drawing the life force from anything living.
After killing and devouring the life force of everyone in the orphanage, she returns to the sea, where other nexians find and try to end her. It will be a fight to the death, and Toth secretly hopes she loses so she can end this torment and sense of guilt.
Scott's story had many unusual and fascinating aspects to it. But overall, the plot was too slow to grab and hold the reader's attention.
---
You can follow Kevin P Hallett's writing on www.kevinphallett.com