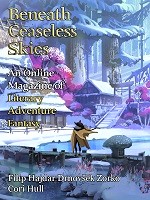 Beneath Ceaseless Skies #323, February 11, 2021
"When Your Being Here is Gentler Than Your Absence Hard" by Filip Hajdar Drnovšek Zorko
"Rose Kissed Me Today" by Cori Hull
Reviewed by Victoria Silverwolf
Appropriate to the Valentine's Day season, this biweekly magazine of fantasy fiction offers two love stories.
The narrator of "When Your Being Here is Gentler Than Your Absence Hard" by Filip Hajdar Drnovšek Zorko is a warrior magically transported back in time to save the life of the woman who is her lover in the future. She must fight assassins intent on killing the woman, even if it means her own death. Together, the two lovers-to-be struggle to find a way to remain together in the future.
Like many time travel stories, this tale is sometimes difficult to follow. It is unclear whether the past can be changed or not, for example. The narrator addresses the woman in the future in second person, and refers to the woman in the past in third person. This is an interesting technique, but requires close attention on the part of the reader. Besides the love story and the theme of time travel, the rest of the story is a familiar one of warfare in a fantasy world.
"Rose Kissed Me Today" by Cori Hull is a simple tale in which the narrator falls in love with a mysterious woman who is something other than human. She must decide whether to remain in her own village, or go with the woman into a magical realm.
This story makes for very pleasant reading, but there are few surprises in the plot. The narrator's decision is obvious from the start, so there is no suspense. This is particularly true when we find out that the fantasy world not only offers love, but eternal youth.
---
Victoria Silverwolf made some vegetarian pho the other day. It was pretty good.