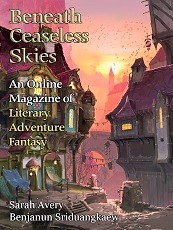 Beneath Ceaseless Skies #319, December 17, 2020
"And The Ones Who Walk In" by Sarah Avery
"The City Still Dreams of Her Name" by Benjanun Sriduangkaew
Reviewed by Michelle Ristuccia
This issue brings us two heavy-hitting stories about cities and, therefore, the place of an individual's choice in the larger society.
In "And The Ones Who Walk In" by Sarah Avery, readers follow our young protagonist beyond the charmed borders of her city's luck spell, a journey driven by the conviction that no amount of magic safety is worth the misery of another. The inhospitable outer lands will immediately test not only her moral mettle, but her ability to survive—and her ability to empathize with those who chose to walk back into her city of misery-powered prosperity. Astute readers will recognize the reference to "The Ones Who Walk Away from Omelas" by Ursula K. Le Guin, yet knowledge of Le Guin's story is not strictly required to plumb the depths of Avery's subversive piece, which stands on its own. In a story with no easy answers, Avery pits her protagonist's untested conviction against the down-trodden acceptance of those who walk back into the luckbringer's unwilling blessing, for no one knows a more fool proof way to protect the frail loved ones that the world consumes in fire and bloodshed.
Benjanun Sriduangkaew takes readers on a city-incarnate's attempt to avert her final death in "The City Still Dreams of Her Name." Alarmed at the disappearance of one of her sister-cities, those borne of splitting herself along the fork of a difficult choice, our unnamed ancient city enlists the aid of a human whose magic can follow hidden paths. Sriduangkaew's use of second and first person POV enhances the tantalizing complexity of a shared-dreamscape walking, time-folding story about coming to terms with our decisions, about treasuring life even when death and decay loom on the horizon.
---
Michelle Ristuccia enjoys slowing down time in the middle of the night to write, read, and review speculative fiction, because sleeping offspring are the best inspiration. Find her on Facebook and twitter @mrsmica.