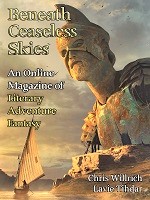 Beneath Ceaseless Skies #314, October 8, 2020
"Eyetooth" by Chris Willrich
"The Drowned God's Heresy" by Lavie Tidhar
Reviewed by Kevin P Hallett
The 314th issue of Beneath Ceaseless Skies has two stories, a novella and a novelette.
"Eyetooth" by Chris Willrich
In Willrich's fantasy novella, Bone and Gaunt seek the Eyetooth, a magical weapon of immense power. Bone is a skilled thief who recently lost his immortality. Gaunt is a poet, and she was the inadvertent reason for the loss of Bone's immortality. Deep in the molten bowels of Earthe these lovers find Eyetooth and realize it's only a key. But a key to what?
Bone leads them to Loomwatch, an ancient city where magic has no grip. He seeks two Delven astronomers who can tell them what lock the Eyetooth will open. Gaunt uses her mental prowess to protect this man who holds no grudge that he lost his immortality.
Meanwhile powerful forces detect the removal of Eyetooth and begin moving to take it back at the demise of whoever holds it. Each of these forces has their own agenda and trusts no one else.
For a hefty price, the Delven astronomers guide Bone and Gaunt. And Gaunt uses the Eyetooth to find the Logos Lock. Here, primeval forces hold captive the First Prisoner who is an awesome entity capable of destroying all magic forever.
This was an interesting plot. But the language, overuse of strange names, and unnecessary details made it hard to follow.
"The Drowned God's Heresy" by Lavie Tidhar
Gorel, the gunslinger, hunts for lost treasure in this fantasy novelette. Jericho has invited him to find a treasure ship lost near a mysterious island in the ocean. This is the island where the Drowned God slipped under the waves one last time.
Pirates intercept their voyage to the island, which should be Gorel's first warning that other mischief is afoot. Still, Jericho has promised that this sunken ship originated from Gorel's old homeland, a place he has been searching for since invaders expelled him as a young boy.
This was an engaging yarn that kept the mystery and action going until the end.