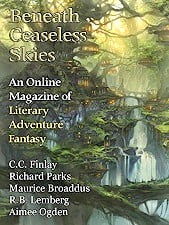 Beneath Ceaseless Skies #300, March 26, 2020
"The Hummingbird Temple" by C. C. Finlay
"Uzumaki of the Lake" by Richard Parks
"Bound by Sorrow" by Maurice Broaddus
"To Balance the Weight of Khalem" by R. B. Lemberg
"Never a Butterfly, Nor a Moth with Moon-Painted Wings" by Aimee Ogden
Reviewed by Kevin P Hallett
The 300th issue of Beneath Ceaseless Skies is a special double issue with five original stories, including two novelettes and one novella. All five stories were good reads.
"The Hummingbird Temple" by C. C. Finlay
Lin, the ninth in line to the throne, has no expectations of anything more than being a pawn in a royal marriage scheme in this fantasy novelette. She spends her time designing and building a model of a temple out of bleached hummingbird bones and distancing herself from all her siblings' palace intrigues.
Then, one evening, her father, the Dynast, dies under suspicious circumstances and a bloodbath for succession quickly begins. Lin can only hope to live through the night and offer her supplication to whomever wins the throne. But her survival will be a monumental task in a land with many exotic means of assassination.
This character-based story was easy to start and hard to put down once started. The author wove two perspectives into a well-structured and engaging tale.
"Uzumaki of the Lake" by Richard Parks
Lord Yamada waits for sunset in this short fantasy. He's at a contested lake with Kenji to identify a nightly apparition thought to be the ghost of a lord's wife. Rumors of a dragon under the lake, that's guarding a throne of gold, make this lake much more valuable than the large pond it appears to be.
As the sun sets, a ghostly apparition appears. It is a woman who floats over the lake's surface to a position that interests her and seems to signal them. The next day Lord Yamada and Kenji inspect that spot. What they see brought those legends of the dragon into sharper focus.
This easy-paced yarn was hard to predict and evolved into a nice sleuth story.
"Bound by Sorrow" by Maurice Broaddus
In this fantasy novella Dinga is on a mission to find a mysterious floating city. He promised a beloved friend to deliver something precious to the fabled city. A self-absorbed friend, Gerard, comes along, though more to pass some time than through any sense of companionship.
The quest for the city takes Dinga through many challenges and forces him to relive and reevaluate his life as a warrior. When he finds the city, he finds the home of the Gods and a place where his whole rationale for life will be sorely challenged.
Though this was a frequently seen theme in fantasy, the author created an interesting character-centric tale. Broaddus did a compelling job of revealing the story's mysteries piece by piece, allowing the reader to reach their own conclusions on what it all meant in the end.
"To Balance the Weight of Khalem" by R. B. Lemberg
In Lemberg's fantasy novelette, Belezal is uncertain of his sexual identity. He's a refugee of many wars and unsure where his next meal will come from when a merchant gives him a special golden onion carved to represent the floating city of Khalem.
When he is finally allowed to escape on a ship to a safe haven, Belezal takes his precious onion with him. On the ship an elderly woman, Nayra, asks him many times to give her the onion, but he refuses. In time, Gabi, a shapeshifter, visits him from the sea, and he falls in love. And when Gabi claims she can find him without the special onion he gives it to Nayra. But he should have told Gabi first, and she is far from pleased that he gave up the prized onion.
This mysterious story had a nice rhythm to the prose making for a pleasant read.
"Never a Butterfly, Nor a Moth with Moon-Painted Wings" by Aimee Ogden
A butterfly woman, Shemi, bares a daughter in this short fantasy. And when hard times force her people into a new country and culture, Shemi finds herself worn down by the oppressive Ksmala that take in her people.
Her daughter grows up in the new culture, straddling Shemi's butterfly culture and the Ksmala. Shemi struggles to understand her daughter's choices but loves her still and hopes that one day she can make the wise choices to find happiness.
The story was an allegory about changing cultures and how children often bridge the gap between the old and the new. Beyond that parable, the plot did not offer much.