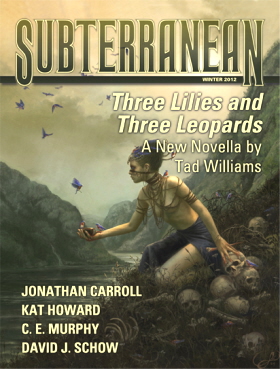 Subterranean Online, Winter 2012
"Water Can't Be Nervous" by Jonathan Carroll
"The Least of the Deathly Arts" by Kat Howard
"Treasure Island: A Lucifer Jones Story" by Mike Resnick
"Three Lilies And Three Leopards (And A Participation Ribbon In Science)" by Tad Williams
"The Drunken Moon" by Joe R. Lansdale
"Seeräuber" by Maria Dahvana Headley
"The Way the Red Clown Hunts You" by Terry Dowling
"The Last Song You Hear" by David J. Schow
"Chicago Bang Bang" by C. E. Murphy
Reviewed by Chuck Rothman
Subterranean Online specializes in strongly written stories, and the Winter issue is no exception.
I was somewhat confused at first with "Water Can't Be Nervous," when the author made a scene change that seemed to come out of nowhere. I might have stopped reading, except that it's my job to finish, and Jonathan Carroll is too good a writer to make amateur mistakes. My persistence was rewarded with the story of the narrator who starts reliving his relationships by the use of hand puppets to represent both him and his girlfriend. The story is good overall, and the use of language makes it a pleasure to read. It also has a lot to say about the nature of relationships, though it seems to have little fantasy content.
"The Least of the Deathly Arts" is set in Nyx, city of death, where Noir is a scholar studying the deathly arts. She is dismissive of poetry, until she meets Death himself, who shows her a sestina he had written that was supposedly lost. It disrupts her studies and life in ways she never expects. The story takes a risk — if the sestina (a specific type of poem with strict rules) isn't a good one, it fails, but Kat Howard rises to the challenge, and the result is another story with some great use of language, as Noir learns the flaws in her perceptions.
The seriousness of the other two stories is counterpointed by Mike Resnick's "Treasure Island: A Lucifer Jones Story." In this, Jones finds himself on a desert island infested with pirates, who are there to get a chest of buried treasure that had been hidden by Jones' arch enemy, Erich von Horst. Jones concocts a plan, trying for the first time to get the better of von Horst. The story is bright and breezy, probably as much fun to read as anything I've seen in a long time. It's ultimately a tall tale, but the inspired silliness makes it a total delight. I haven't read other Lucifer Jones stories, but after this, I'll be seeking them out.
There's more goofiness to come with "Three Lilies And Three Leopards (And A Participation Ribbon In Science)," which is as delightful as its title is clunky. It's the story of Pogo Cashman, a manager in a shoe store, who is accidentally transported into a pastiche of a Poul Anderson story (not one written by Anderson himself, but rather by "a bit of a hack" for a tribute anthology). This causes problems for not only Pogo, but for the Crossover Division of the Department of Fictional Universes, who need to find a way to set things right. Quidprobe, a sub-sub-manager in the Poul Anderson subdivision, accidentally sends himself into the story, to help Pogo — who is delightfully clueless — to complete the mission. I love metafiction, and Tad Williams is pulling out all the stops in creating funny characters and off-beat events that make this a wonderful read. It was written for an upcoming Poul Anderson tribute anthology (one more level of meta) and I give it extra points for knowing what a Brannock Device is.
I've been running into Joe R. Lansdale a lot in my recent reading. "The Drunken Moon" is a bit of flash fiction about a neighborhood outcast who turns out to have a terrifying secret. It's just a revelation story, however, and might have been better if expanded. As a short short, it's not bad, though the shock at the end is something that is a bit overused.
"Seeräuber" by Maria Dahvana Headley is about a Jenny Haniver — a creature fashioned by sailors and sold in seafaring towns. This Jenny is different, though — a strange little creature, half mermaid, half angel, that has been captured in a bottle. Wherever she goes as she passes from owner to owner, she brings madness and death. It took me a bit to figure out what was going on, until I realized that the story was a nod to the classic Weill/Brecht song, "Pirate Jenny." That put the events in a new light, and made me reread the story to see the parallels. Ultimately, it's a good reworking of the song that doesn't so much follow the story as it extrapolates from it into a fantasy setting.
"The Way the Red Clown Hunts You" is set in an amusement park in Sydney, Australia, where Dan Truswell sees a mysterious and sinister clown juggling in an alley. He discovers that the clown might be there bringing his death, and maybe the deaths of his friends. Terry Dowling writes with a good eye for detail and some interesting language, but I found it hard to get into the story. Sinister clowns are all too common these days and I didn't feel this stood out enough from the rest.
David J. Schow's "The Last Song You Hear" is mostly made up of a conversation between two former lovers, a man and woman who had spent their lives as friends and more, but who always seemed to have things that kept them apart except for brief periods. I was disappointed in it — until the final few paragraphs, which exploded off the page and made the entire story into a powerful experience. Suddenly, everything took on a very different meaning, and gained an emotional depth that made it memorable. I see so many stories with weak endings that it's a delight to find one that resolves so perfectly. It really doesn't have any overt SF or fantasy elements, but that doesn't matter.
"Chicago Bang Bang" is a fantasy take on the hard-boiled detective story, where the protagonist — who is no ordinary private eye — is witness to a murder attempt on mob boss Eliseo Daisani. Daisani is no ordinary gangster, either, and his girlfriend, Vanessa Grey, shows up at the detective's office to find the killer. C.E. Murphy creates a world that reaches out beyond the story to create an entire world of background that you want to see more of. It's a fast-paced tale that's highly entertaining.
Once again, I was extremely impressed by Subterranean Online. The stories range from serious drama to gonzo comedy, and stand out as among the best stories I have read in a long time.