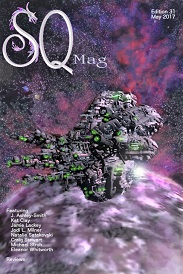 SQ Mag #31, May 2017
"Old Growth" by J. Ashley Smith
"Of Dreaming and Destiny" by Jamie Lackey
"Pevel Was Here" by Michael Stroh
"A Thousand Million Small Things" by Eleanor Whitworth
"My Son, the Afterbirth" by Craig Stewart
"The Skull Collector" by Jodi L. Milner
"Death Clothes" by Natalie Satakovski
Reviewed by Chuck Rothman
SQ Mag's May issue came out a little bit late, but had a mix of different genres, including several winners of the magazine's 2016 Story Quest Contest.
"Old Growth" by J. Ashley Smith tells about Scott, who has his two children, Mika and Ashley, on a road trip during his visitation times. As they drive, Mika announces that he sees faces on the trees, and as they travel, these faces and trees seem to surround them. The town where they pull into to buy some lunch is almost deserted but Scott pushes on to achieve his goal of having a picnic in the woods. I've said in the past that problem of predictability is something horror has to deal with, and it's pretty clear from almost the start where this story is going.
Jamie Lackey contributes the fantasy story "Of Dreaming and Destiny" where Altantsetseg goes through a ritual to evoke a dream that will reveal her destiny. It shows her a young man named Jin, whose fate seems to be intertwined with hers. Of course, they eventually meet for real, when an army threatens them and their leader asks her to be his queen. The story had an interesting setting, but never really caught fire for me.
"Pevel Was Here" is an exercise in futility. After a catastrophic eruption in Yellowstone, most people are killed and Pevel and his wife trek to the Gulf of Mexico. It's told in flashbacks to the main story, events that are pretty much what you would expect. Michael Stroh paints a dismal picture of life that doesn't really add up to anything.
Eleanor Whitworth's "A Thousand Million Small Things" is set on a dystopic version of Earth, where Merophie contemplates emigrating to X8, a colony world. Her friend Chris urges her to do it. Chris is interested in "bot beasts," robots that have achieved sentience, especially when a cleaning bot—programmed to eat anything—escapes from its job. The story succeeds despite the dystopia cliché and an ending that's no big surprise, mostly because of the glimpse of the characters and the discussion about life on X8.
"My Son the Afterbirth" by Craig Stewart is about Travis and Doug, a gay couple with one major conflict: Doug wants a child, but Travis does not. Doug secretly takes part in an illicit way of creating a baby and gives birth. But the child is incomplete and something of a monster. To survive, Travis will have to take part in the process. I liked the couple, though Travis comes off as inconsiderate, to say the least. The ending is a pretty routine gross out.
Jodi L. Milner's "The Skull Collector" is set in a shoreline society that sacrifices one of its young men to the gods each year. The Shaman of the tribe has a conflict with his son, Liko, who wants to be trained as a shaman, too. His father puts it off until the next year, after Liko is of the age to be chosen. The story never really came alive for me.
"Reef" by Kat Clay is a horror story where the protagonist, a self-centered party-hearty type from the UK, visits Australia and doesn't give a damn about the rules, including the ones that tell him not to touch the coral on the Great Barrier Reef. But a stray touch has horrifying consequences. It goes pretty much as expected, which is a point against it, but the personality of the protagonist does make this a lively read.
Natalie Satakovski's "Death Clothes" is about Soulless and Mixie, two best friends from high school who start up a business of selling clothes that people have died in. At first, their website is a hit, but they start to find their customers are dying, too, and people start thinking the clothes are haunted. Nice characters and structure, but, again, it's clear to see where things were going.
The problem with many of these stories is that their endings can be foreseen about halfway through. I'm not looking for a twist ending, but rather one that isn't obvious halfway through the story. There are some good concepts, but the best of them depend on more than just presenting the situation.
---
Chuck Rothman's novels Staroamer's Fate and Syron's Fate were recently republished by Fantastic Books.