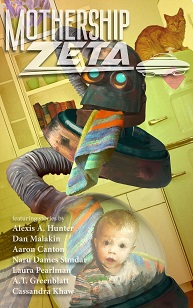 Mothership Zeta #3, April 2016
"Nobody Puts Baby in a Chamber" by Alexis A. Hunter
"A Man Most Imperiled" by Dan Malakin
"The Smoke Job" by Aaron Canton
"Straight Lines" by Naru Dames Sundar
"Some Things I Probably Should Have Mentioned Earlier" by Laura Pearlman
"A Non-Hero's Guide to The Road of Monsters" by A. T. Greenblatt
"Every Instance of You" by Cassandra Khaw
Reviewed by Michelle Ristuccia
Mothership Zeta #3 is a well-vetted collection of entertaining, trim stories with strong openings and strong characters, all told from first person perspective. Many stories have a comedic flare.
"Nobody Puts Baby in a Chamber" by Alexis A. Hunter shows us the thoughts and dialogue of a robot who has accidentally sucked up a baby. This flash piece emphasizes the dissonance between robot and human thought for a bit of wistful comedy.
In "A Man Most Imperiled" by Dan Malakin, Professor Zircon sets high-tech booby traps to protect his home from the corporation goons who have come to claim his property. In the middle of evil-scientist style hijinks, Zircon falls in love with the proverbial girl-next-door who works for the corporation. An entertaining story with a satisfying ending.
"The Smoke Job" by Aaron Canton is told by Char, a shape-shifting dragon thief whose enemies have discovered her identity. Luckily for Char, greed motivates humans just as much as it motivates her. This urban fantasy packs in a lot of plot and action for its size.
OCD AI ship, Emergent Behavior, reluctantly meets with a psychologist in "Straight Lines" by Naru Dames Sundar. Sundar brings us a thoughtful story of hope and tempered expectations that goes beyond pop psychology in its exploration of irrational fear.
"Some Things I Probably Should Have Mentioned Earlier" by Laura Pearlman is a flippant break-up letter to 'Dear Kevin,' the unfortunate human male unlucky enough to have paired off with the letter's very alien writer. This is a solid piece of classic humor.
In "A Non-Hero's Guide to The Road of Monsters" by A. T. Greenblatt, the narrator navigates The Road of Monsters in pursuit of an old friend, but unlike the heroes who die by the dozens at the Siren's hands, our narrator seeks to pass by the monsters without killing them – or getting killed. This informal journalistic investigation provides character development through contrast and satire.
In the flash piece "Every Instance of You" by Cassandra Khaw, the narrator secretly aids her lover's many incarnations across the multiverse. Khaw brings us a sweet-natured flash piece about loyalty and selflessness.
---
Michelle Ristuccia enjoys slowing down time in the middle of the night to read and review speculative fiction, because sleeping offspring are the best inspiration and motivation. You can find out more about her other writing projects and geeky obsessions by visiting her blog.