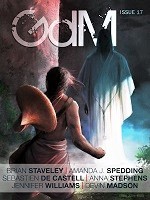 Grimdark #17, October 2018
"A Risk of Malice" by Devin Madson
"Child of the Emptyness" by Amanda J. Spedding
"A Place of Peace and Joy and Rest" by Brian Staveley
Reviewed by Tara Grímravn
October's issue of Grimdark brings with it three excellent offerings from some of fantasy's darkest corners.
"A Risk of Malice" by Devin Madson
Despised by his father in favor of his older brother, a young nobleman becomes a healer. When his brother is wounded, a magician is brought in and, as payment, requests the boy in exchange for saving the favorite son. The Asian-inspired setting was a nice change from the usual medieval European-style worlds one often finds. In terms of characterization, the magician Malice and his Vices were well done and draw the reader's interest. Twists on several familiar tropes are present, such as "Jock Dad, Nerd Son," "Jacob and Esau," and a darker take on "Hope Springs Eternal." All in all, it's a well-done story, although the point of the narrative isn't really made clear until the last few sentences.
"Child of the Emptyness" by Amanda J. Spedding
Believing herself to be an exiled god, a young woman sacrifices souls in an attempt to return home. Spedding's story is set in an apocalyptic world that is being destroyed by the sun god. Ravening creatures dwell in the darkness and mortals are left to die as everything is devoured by shadow. The banter between Ardin and Nyrra was engaging and the way he toyed with her was entertaining. It did sort of give away the ending a little, however, as Ardin's true identity was easy to guess early on. Still, Spedding's story was an enjoyable read.
"A Place of Peace and Joy and Rest" by Brian Staveley
When a door opens in the cliffside after a monsoon, villagers are offered a vague reward by a god. From a world-building aspect, the cultural details were particularly nice and well-developed. The characters of Kasem, Siriket, and Lek were likable and well-developed. It was easy to sympathize with both the fear and hope of each one as this strange opportunity presented itself—if the gods cannot be trusted in most other aspects of everyday life, why would this be any different? As for the plot, it is reminiscent of The Twilight Zone episode "To Serve Man." Even though the promise the god holds out appears a little less sinister and he keeps calling it a reward, complete with loved ones who seem to call out from the darkness on the other side, it still feels a little like an alien feedlot. It makes the fever that decimates the village seem like coercion as people go through the door just to spare themselves a horrible death.