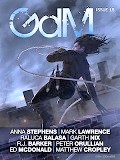 Grimdark #15, April 2018
"Kings and Queens" by Raluca Basala
"Just a Little Murder" by Anna Stephens
Reviewed by C.D. Lewis
Grimdark's fifteenth issue brings readers two new short stories, one reprint, three interviews, a book review, and an article explaining why we keep seeing faux-medieval settings in the Fantasy genre. Tangent reviews only short fiction, but the short fiction here is enough to justify a Grimdark fan's attention. Each of the new pieces is a short story a hair over 4,000 words, set in a dark environment, told in third person about a protagonist with just enough hope left to feel crushed as it's destroyed.
Raluca Balasa sets the tragedy "Kings and Queens" in Toronto after the government's collapse leaves the city's post-earthquake remains in the hands of warlords. The protagonist, a survivor, earned his position making vicious decisions, the primary virtue of which was their effectiveness to keep him alive for the immediate term. A tragedy, the story naturally makes this virtue the story's primary engine: it sets the story in motion, creates its tension, and drives its conclusion. Balasa uses family relationships and their attendant volatility to sell a story rich with distrust and betrayal. The story's final words give "Kings and Queens" a to-the-core darkness that really sets this story apart among those merely set against dark backdrops. The overall impression feels like one's found a dark shadow of Sartre's No Exit – the protagonist fully responsible for the hell he makes himself, but without the civility of Sartre's man (who, though uncomfortably hot, resists removing his jacket if it offends a lady who despises men in shirtsleeves). Balasa's protagonist may get what he deserves, but it's a nasty shock. Beautifully dark.
Anna Stephens's "Just a Little Murder" is a swashbuckling One Last Job adventure set in the protagonist's home port, a wretched hive of scum and villainy set in a world with Age of Sail weaponry. The down-on-her-luck protagonist's mercenary gang – a troop of some renown – has just been lost to an ungrateful subordinate after injuries sustained fighting her own mother (who had her own troops) convinced onlookers they could safety leave her for dead. Medical care is no cheaper in dark swashbuckling adventures, apparently, and freedom to pursue retirement costs her one last job. Alone. Exciting action, thrashed hopes, betrayal – all good fun.
---
C.D. Lewis lives and writes in Faerie.