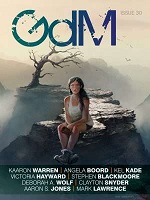 Grimdark #30, April 2022
"Bone Armour" by Victoria Hayward
"State of Oblivion" by Kaaron Warren (reprint, not reviewed)
"Roses in Winter" by Angela Boord
Reviewed by Kevin P Hallett
The 30th issue of Grimdark has two original stories, plus another that was published previously.
"Bone Armour" by Victoria Hayward
This short horror story has Warrant Officer Tamoh pursuing a dissident in a dystopian future. The government is at war with aliens, and it conscripts the citizen's firstborn. Meanwhile, the people use the bones of those killed to manufacture bone armor for the war effort.
Tamoh sends regular reports to Control as he chases after the dissident, hoping to catch him before he learns the truth about the war and the fate of the firstborn.
The story was told through the regular dispatches and slowly peeled back the mystery of this dystopia.
"Roses in Winter" by Angela Boord
Kyris is waiting to kill the man who murdered her lord in this short horror tale. She watches a manor house, and when the assassin arrives, she wheedles her way into the house, disguised as a male messenger.
Too poor to afford a magic drug, she uses a common poison she can conceal in some brandy. Late at night, she changes into a dress and goes hunting despite her friend's warning that she isn't that good at assassinations.
This story had a simple and predictable plot with few speculative elements.
---
You can follow Kevin P Hallett's writing on www.kevinphallett.com