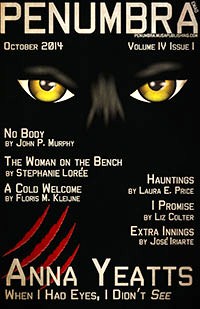 Penumbra #37, October 2014
"I Promise" by Liz Colter
"Hauntings" by Jennifer R. Povey
"When I Had Eyes, I Didn't See" by Anna Yeats
"No Body" by John P. Murphy
"The Woman on the Bench" by Stephanie Lorée
"A Cold Welcome" by Floris M. Kleijne
"Extra Innings" by José Iriarte
Reviewed by Chuck Rothman
Penumbra puts out an issue each month based upon a specific theme. The October issue had a theme of "Paranormal Adventures," which meant seven very short stories featuring ghosts.
"I Promise" by Liz Colter is about a woman who goes down to the sea every evening because of a promise she made to her husband and son, who had been swept away. The story depends on the emotional state of the main character more than plot, which really is no surprise. But it merely presents the idea and hopes the twist will make the story (but see my final note), and I don't think that's quite enough.
Jennifer R. Povey contributes "Hauntings," about a protagonist who is living in a house that is filled with ghosts from her life, including her parents and Kevin, who had been abusing her, forcing her to kill him in self-defense. This is another mood piece that I had trouble getting into, and I didn't really understand what the author was getting at.
Anne Yeatt lives dangerously by titling her story "When I Had Eyes, I Did Not See," conjuring up a classic title of science fiction. Miss Albright has been murdered; metal bars plunged into her eyes. Now she waits for the Lift-man (an elevator operator). There's some nice creepiness to the concept, and it works out as a fairly good tale of revenge with a different twist.
In "No Body," Harry McFoy's old family home had been flooded when a dam was built. Now, decades later, the water has receded, and he returns to deal with a family mystery. His Uncle Winston's ghost is there, and Harry sees the truth: Winston has been hanged, and it's not a suicide. The question is why. John P. Murphy slowly unravels the mystery about what happened to Winston in the strongest story in the issue.
Stephanie Lorée contributes "The Woman on the Beach," where the narrator and her dog go daily to a certain bus stop bench in order to meet an older woman named Regina, who is confused about who she is. You know what Regina is, though the story does have a nice theme of redemption and finding peace.
"A Cold Welcome" has a protagonist who is bent on revenge, showing up at the house of a man who took away his love – now dead – and murdered the protagonist to boot. Floris M. Kleijne has written a straightforward revenge tale – maybe too straightforward — as it fills in the story. Decently done, but no surprises here.
José Iriarte's "Extra Innings" has yet another unnamed protagonist, a man who goes to a mall in Chicago soon after his wife Maggie's funeral. A mysterious man offers him a ticket to a baseball game – the one Maggie had wanted to attend. It's a short vignette that manages to be touching and charming at the same time.
The problem with a theme issue like this is that, by its very nature, you can't do a surprise ending: sooner or later, a ghost shows up, and if it's not there early, then the narrator is the ghost. A couple of stories try this twist, and while it would work elsewhere, it doesn't work when all the stories are about ghosts. Still, none of the stories are outright clunkers, and there is more than enough good reading.
---
Chuck Rothman's novels Staroamer's Fate and Syron's Fate were recently republished by Fantastic Books. His story, "Ulenge Prime," will soon be appearing in Analog, and he has the cover story in Triangulations: Parch.