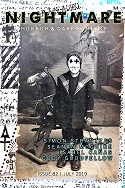 Nightmare #82, July 2019
"Antripuu" by Simon Strantzas
"No Other Life" by Isabel Cañas
Reviewed by Victoria Silverwolf
Two stories with themes that will be familiar to fans of scary movies appear in the latest issue of this on-line magazine of horror fiction.
"Antripuu" by Simon Strantzas features a group of hikers trapped in a cabin during a raging storm, with a bizarre creature outside ready to devour them. The story is vivid and moves at a breakneck pace, but has little to offer other than the thrills of a typical monster movie. The characters are sketchy, so the reader has little reason to care if they live or die.
"No Other Life" by Isabel Cañas takes place in Istanbul in the Sixteenth Century. The narrator is a young woman who invites a vampire into her home. She wishes to become one herself, but the vampire refuses. The woman is married to a man she thinks of only as "the stranger," and wishes to give her love to the vampire instead. Because both characters are women, this quiet tale fits into the tradition of lesbian vampire fiction, which dates back at least as far as Joseph Sheridan Le Fanu's 1872 novella Carmilla. Although beautifully written, with a convincing portrait of its time and place, the story lacks originality.
---
Victoria Silverwolf has seen a lot of monster movies and not a few movies about lesbian vampires.