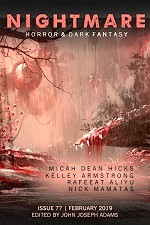 Nightmare #77, February 2019
"Quiet the Dead" by Micah Dean Hicks
"58 Rules to Ensure Your Husband Loves You Forever" by Rafeeat Aliyu
Reviewed by Michelle Ristuccia
In "Quiet the Dead" by Micah Dean Hicks, even the town's ghosts flock to the last real employer, the merciless, impersonal pig plant where Kay works. Kay struggles to take care of her possessed siblings while battling her own vengeful spirit in a run-down house that breaks faster than Kay can keep up, lending physical weight to the responsibility left on her shoulders when their mother ran off. After losing her job at the plant, what drove off their mother threatens to turn violent Kay against her siblings—her sister's enigmatic secret, kept in by the ghost that haunts her. Hicks tells a moving, descriptive story of anger from loss, of responsibility, and of the freedom of a secret finally released.
The parodic overtones in Rafeeat Aliyu's "58 Rules to Ensure Your Husband Loves You Forever" show how a relationship might not be worth keeping at any cost. Readers first see Iman scouting the city for dead bodies for her zombie-esque husband and as the story unfolds, Aliyu explicitly describes death and sex in a way designed to make readers uncomfortable with her characters' choices. Aliyu's use of POC characters, set in Abuja, Nigeria, is refreshing in its unapologetic lack of exoticism.
---
Michelle Ristuccia enjoys slowing down time in the middle of the night to read and review speculative fiction, because sleeping offspring are the best inspiration and motivation. You can find out more about her other writing projects and geeky obsessions by visiting her blog.