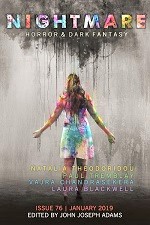 Nightmare #76, January 2019
"What it Sounds Like When You Fall" by Natalia Theodoridou
"On the Origin of Specie" by Vajra Chandrasekera
Reviewed by Tara Grímravn
Nightmare Magazine opens 2019 with two brand new stories. As seems to be the case with most of the stories that Nightmare publishes, both offerings have a more formal literary feel to them in terms of language and style than one would usually find in genre fiction. I've had the opportunity to review Nightmare previously and had really enjoyed what I'd read. Unfortunately, I can't say the same this time 'round.
"What it Sounds Like When You Fall" by Natalia Theodoridou
A little girl attends her uncle's funeral with her parents. Angels in the form of pigeons crowd in around the grave. But Uncle Pete isn't dead; he's lying in the coffin under the ground waiting to die and the little girl visits him often. When he tells her that the angels can bring gifts to those who help them, she asks them to bring something that will save her uncle's life although he seemingly doesn't want this.
Theodoridou's tale is quiet and melancholy, moving like a slow-flowing river, but never really reaches any sort of a boiling point. The beginning was so promising—a very-much-alive man attending his own funeral as his family plants him in the ground and pigeons that talk to a little girl. That spark, however, just sort of sputtered out at the end without even so much as a whisper. I kept reading, waiting for a point to be made, a climax of some sort, but the most I got was a stone thrown at a pigeon after Uncle Pete quits responding. The end appears to be indicative of a cycle starting all over again but, then again, there wasn't enough in the narrative to really grab on to in order for me to form a solid theory.
"On the Origin of Specie" by Vajra Chandrasekera
After being arrested for refusing to pay taxes, the narrator is tossed into a rather strange prison cell. Somewhere below, underneath an unknown number of other prisoners, there's an oubliette that the others say is bottomless. The narrator tries to remain on top, at first trying to climb his way back up to the hole through which he entered the cell. Later, he tries just to keep from slipping lower. All of this struggle happens amidst occasional showers of coin from above. Eventually, he loses his grip and slips down towards the oubliette.
Chandrasekera's story feels like it takes an incredibly long time to get through, despite being only 3,405 words. I must admit, I struggled to reach the end without abandoning the story half-way through but, unfortunately, the end is the only time at which its point, a rather heavy-handed social commentary, becomes obvious. Thanks to the language choice and symbolism, the narrative itself was torturous to read and, while I understand that Chandrasekera did this intentionally, that combined with the weirdness of the imagery and setting made the story such a hard slog that I found myself completely losing interest only a few paragraphs in.