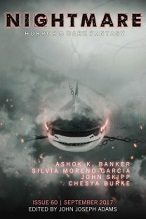 Nightmare #60, September 2017
"Jade, Blood" by Silvia Moreno-Garcia
"No One Prays to the Goddess" by Ashok K. Banker
Reviewed by Victoria Silverwolf
Two authors offer stories about meetings with supernatural beings, making use of locations which will seem exotic to many American and European readers.
The Yucatan peninsula of Mexico is the setting for "Jade, Blood" by Silvia Moreno-Garcia. A young woman who was unwelcome in her family and considered not worthy of marriage finds refuge as a nun. While exploring the wilderness surrounding her isolated convent, she is drawn to one of the deep waterholes in the area and the entity that dwells in it. This very short story is quite well written, and one only wishes it were longer and more developed.
In "No One Prays to the Goddess" by Ashok K. Banker, a middle-aged man travels to Bombay on family business. He was born in India, but immigrated to the United States as a child. He finds the shrine of a goddess hidden in the heart of the city. Later, he has encounters with the deity in various forms, and learns the benefits she offers and the price of rejecting her. With a similar theme to the previous tale, this is a much more satisfying story.
---
Victoria Silverwolf has been to Mexico but not India.