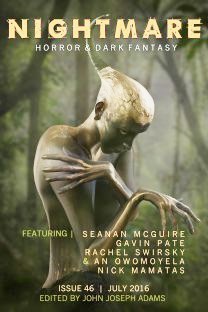 Nightmare #46, July 2016
"Red House" by Gavin Pate
"
Whose Drowned Face Sleeps" by An Owomoyela and Rachel Swirsky
Reviewed by Kevin P Hallett
There are two first publication stories in this forty-sixth issue, a novelette and a short story. Both are told through similar story craft.
"Red House" by Gavin Pate
Pate's horror mystery short story reveals a father abducting his ten year-old daughter on the eve of a 100-year flood event. After leaving the murdered mother behind, the father escapes into the rugged hills. Keeping his mystified daughter with him he tries to survive in the lashing rains that turn the creeks into killer torrents. One slip leads to disaster and an encounter with a mysterious and uncompromising fate in the red house.
The author tells the story through a kaleidoscope of images from the little girl's memories. The reader must thread these potent images into a whole that tells the horrors the girl must survive and that will color her view of life forever after. Some readers will like this approach, others will not. The appeal of this short story will be in the mind of the reader.
"Whose Drowned Face Sleeps" by An Owomoyela and Rachel Swirsky
This horror novelette introduces us to two entities. One is a despairing woman, named R, with thoughts of killing herself after a failed romance; the other is a being that waits to take over her body and memories when she dies. When R kills herself, the being takes over her body and flushes away the spiritual remnants of the suicidal host. The being continues the life of R with greater fortitude until she misjudges an encounter that turns deadly. The flushed remains of the erstwhile host return to rescue her and the two entities coalesce to form a new, even stronger, existence.
Told through a descriptive set of vignettes that flip back and forth in time, the story will not appeal to all readers. In the end, the story was pleasant to read, but did not do much to break new ground in the horror genre.