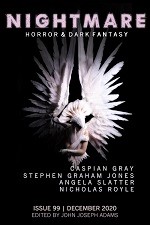 Nightmare #99, December 2020
"The Book of Drowned Sisters" by Caspian Gray
"The Wrong Girl" by Angela Slatter
Reviewed by Kevin P Hallett
There are two first published short stories in the 99th issue of Nightmare.
"The Book of Drowned Sisters" by Caspian Gray
Diamond's younger sister, Tyesha, drowns in this short fantasy. Diamond is eleven when it happens, and somehow her drowned sister becomes lost to everyone's memory except hers.
Now a freshman in college, Diamond keeps a scrapbook of her memories of Tyesha. When she meets Bana, an older girl at her college, Diamond discovers a kindred spirit with a similar experience. Bana's little sister drowned and then disappeared afterward. Could there be a reason why drowned sisters disappear?
This character-centric story was hard to put down, though its speculative elements were light.
"The Wrong Girl" by Angela Slatter
In this horror short, Isla has a friend, Will, who cannot remain loyal to any girlfriend. Knowing what he's like, Isla makes sure to avoid any intimate relationship with him. After all, she knows how she treats her own discarded boyfriends.
But Will becomes infatuated with Isla's fragile sister, Sophie. And when Will discards her six weeks later, Sophie doesn't take it well at all. So, Isla decides to break her rules with Will.
This story was confusing at times as the POV flipped around. And the horror aspects only came at the very end.