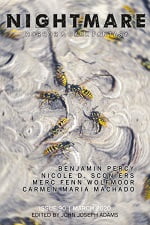 Nightmare #90, March 2020
"A Study in Shadows" by Benjamin Percy
"Flashlight Man" by Merc Fenn Wolfmoor
Reviewed by Kevin P Hallett
There are two first publication stories in the 90th issue of Nightmare.
"A Study in Shadows" by Benjamin Percy
Professor Harrow is experimenting with people's fears, in this short piece of horror. The amoral psychology professor explores how children and adults react to fearful situations, many of which he deliberately induces for the sake of science.
Over time, his experiments lead to ever more bizarre and horrifying results, until he decides to experiment on himself.
The author presented the short story as a series of experiments, with results that became more gruesome. The plot's direction and purpose didn't become apparent until the end.
"Flashlight Man" by Merc Fenn Wolfmoor
In this short horror story, four boys decide to try out the urban legend of the Flashlight Man. Before going to sleep they must invoke the Flashlight Man and then sleep until he enters their dreams. To survive they must wake up before the light reaches their face. Bragging rights go to the boy who waits the longest, but not too long.
Three of the boys try it during their sleepover. But only two of them can describe their experience of the Flashlight Man's nightmare.
The extra-short story had a light and easy rhythm to the prose, making it a welcoming read.