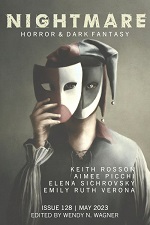 Nightmare #128, May 2023
"Primal Slap" by Keith Rosson
"9 Lies You Tell Yourself About Ghost Hunting" by Aimee Picchi
"Goodnight, Virginia Bluebells" by Elena Sichrovsky
Reviewed by Kevin P Hallett
There are three original stories in the 128th issue of Nightmare, including one flash fiction. Overall, it was an entertaining collection.
"Primal Slap" by Keith Rosson
In this short horror story, Gillian's father makes millions running a weapons technology company. Disgusted at her parent's role in the deaths of thousands of children, she leaves home to eke out a life in sales. At some point, the ghost of a headless boy visits her. The ghost boy is one of her family's victims and doesn't leave, hovering in the background throughout her day.
Along with her parents and coworkers, the ghost boy makes her life miserable until she finds a crazy form of yoga called Primal Slap. Here she can beat her frustrations out on other members, as they do the same to her. Then, just as she begins to turn her life around, the ghost boy stops merely haunting her from a distance.
The author wrapped a morality lesson in an otherwise straightforward ghost story.
"9 Lies You Tell Yourself About Ghost Hunting" by Aimee Picchi
She is the new sidekick for the superhero, Gentleman, who hunts ghosts in this horror flash. There were seven sidekicks before her; all of them died at the Undercroft Manse trying to save the superhero. But she convinces herself it will be different this time as she tags along behind Gentleman, who is walking up the drive to the Manse.
The author structured the story perfectly for flash fiction, making for a quick, gripping tale.
"Goodnight, Virginia Bluebells" by Elena Sichrovsky
Haunted by her father's crimes in this short horror tale, Kaitlyn is fascinated by her father's five gruesome murders. In equal measure, she is disgusted and enthralled by thoughts of her father as he cuts up his victims.
When she marries to change her last name, her visions only worsen. Then she meets another murderer's daughter in a support group. Now she has a partner to help her understand if evil is inherited.
This short story hauled the reader through the psychological horrors of hate/worshipping an evil relative.
---
You can follow Kevin P Hallett's writing on www.kevinphallett.com. There are links there to join his mailing list for a weekly newsletter on the recent release of his third novel, Journeyman Wizard.