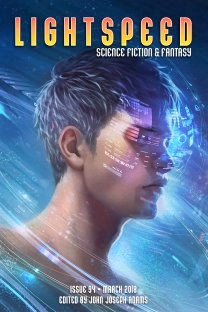 Lightspeed #94, March 2018
"You Do Nothing But Freefall" by Cassandra Khaw and A. Maus
"The Independence Patch" by Bryan Camp
"Al-Kahf (
الكهف
)" by Beesan Odeh
"Cosmic Spring" by Ken Liu (previously published in Chinese by the Future Affairs Administration on Weibo and WeChat)
Reviewed by Kat Day
This month Lightspeed contains three original stories and five reprints, one of which has previously only been published in Chinese and so will be reviewed here.
"You Do Nothing But Freefall," by Cassandra Khaw and A. Maus is a bittersweet story about a fox—perhaps the word kitsune would be apt—who finds a maneki-neko figurine in the forest one day. The two decide to pair up until the fox, in human form, falls for a human woman. The characters are well-drawn and this is an enjoyable piece with a gentle message about the enduring nature of true friendship over time. Recommended.
"The Independence Patch," by Bryan Camp, is a science fiction piece featuring a boy named Danny. The story begins with him sitting an exam, wearing something he refers to as "a dunce cap." I won't go into the details of what that is, or Danny's nature, but suffice to say this is a great science fiction story with a compelling central character. My only slight disappointment was with the ending. It felt more like the start of something than an end—but perhaps this is only because the rest of the story is so strong. In fact, I could easily imagine this being developed into a longer work with this shorter piece as the prologue.
"Al-Kahf (الكهف)," by Beesan Odeh, is a dark fantasy story about a character named Talub and his close companion, Boutros. They live in the sea and play music together and tell stories, until one day Boutros disappears. This is a well-executed piece but, without giving too much away, the denouement involves a child. This character is otherwise undeveloped, and the ending left a very unpleasant taste.
"Cosmic Spring," by Ken Liu, sees its first publication in English in this issue, having been originally published in Chinese by the Future Affairs Administration on Weibo and WeChat as part of their "Spring Festival Gala" celebration in February 2018. It's a dreamy piece of science fiction in which we meet a character who is steering something called an "island-ships" through the vastness of space. There is some lovely imagery here and some thought-provoking commentary about the nature of the universe, but I found this story difficult to engage with and felt the ending lacked impact. Perhaps it loses something in translation.
---
Kat Day makes children handle fire and dangerous chemicals for living (it's okay, she's a chemistry teacher). When not doing that, she spends her time writing and trying to wrangle her own two children into line (without fire or dangerous chemicals, because that would be frowned upon). She has had a short story published in Daily Science Fiction and has another upcoming in "24 Stories," an anthology to raise money for the survivors of the Grenfell Tower tragedy. You can follow her on Twitter @chronicleflask.