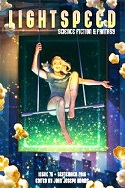 Lightspeed #76, September 2016
"The Lives of Riley" by Sean Williams
"Unauthorized Access" by An Owomoyela
"See the Unseeable, Know the Unknowable" by Maria Dahvana Headley
"Crocodile Tears" by Jaymee Goh
Review by Michelle Ristuccia
"The Lives of Riley" by Sean Williams is an SF flash following Riley and his illicitly created clones' multiple points of view as they run from authorities. Williams' tightly written piece explores a classic cloning dilemma using terminology that will resonate with modern readers.
In "Unauthorized Access" by An Owomoyela, hacker Aedo finishes out her prison sentence only to be confronted with an even more tempting whistle-blowing job that pits her against the Energy Division once again. Owomoyela writes a sympathetic, well-rounded character and cleverly explains points on which a layman might otherwise be confused, such as what a hacker actually is. "Unauthorized Access" is a derring-do story about the right to information and about freedom from government interference.
"See the Unseeable, Know the Unknowable" by Maria Dahvana Headley is told from the perspective of a magical circus that calls out to humans who have grown tired of Earth. When Wren receives a flier from the circus, the reader learns tidbits about her past life that explain how much she dislikes Earth and her current life on the lamb. First person plural tense ("we") may strike some readers as odd, but also feeds into the otherworldy, creepy tone of the piece. Headley seems to be asking the reader what sort of person would want to leave their life behind for the unknown, and at the same time, Headley proposes an answer with her flawed character, Wren.
"Crocodile Tears" by Jaymee Goh is a folktale style fantasy where a crocodile chastises an unfaithful son, Si Tenggang, in a twist of irony foreseen by the reader. Goh reinvents the Southeast Asian folktale of the same name in a way that brings back the crocodile as a monster, taking the focus off of a vengeful mother and placing it onto the son who deserves revenge.
---
Michelle Ristuccia enjoys slowing down time in the middle of the night to read and review speculative fiction, because sleeping offspring are the best inspiration and motivation. You can find out more about her other writing projects and geeky obsessions by visiting her blog.