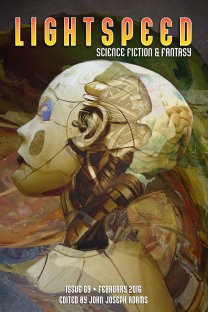 Lightspeed #69, February 2016
"Charlotte Incorporated" by Rachael K. Jones
"
Not by Wardrobe, Tornado, or Looking Glass" by Jeremiah Tolbert
"Sooner or Later Everything Falls Into the Sea
" by
Sarah Pinsker
"Starfish" by Karin Tidbeck
Reviewed by Kevin P Hallett
The 69th issue of Lightspeed's ezine had some good stories to read, a couple that take you to places you don't commonly find in science fiction or fantasy.
"Charlotte Incorporated" by Rachael K. Jones
Rachael's unsettling science fiction story is set in a future where people are either disembodied brains or brains incorporated into a manufactured body, a corpus. Charlotte dreams of incorporation and saves her money to purchase a corpus but things don't turn out as she hoped and in the end, she must make some harsh choices.
Though disembodied, the author built Charlotte's character so I was immersed in her plight. A cool, but chilling read.
"Not by Wardrobe, Tornado, or Looking Glass" by Jeremiah Tolbert
Jeremiah's fantasy yarn shows us a world where most people receive a gateway into a fantasy world of their own imagination. Louisa is still waiting for her own 'rabbit hole' to take her away from her mundane life; as she waits, creatures from other people's rabbit holes are beginning to populate the mundane world. Is it fair that she's still awaiting her escape?
I enjoyed this well-written yarn as the pace picked up and asked the question, what's more interesting, our fantasies or our real lives?
"Sooner or Later Everything Falls Into the Sea" by Sarah Pinsker
Set in the near future where civilization has broken down, this science fiction story is really the story of two people escaping from their pasts and who find themselves thrown together on a beach. Trapped on an endless cruise to avoid the altered world Gabby escapes and floats ashore where Bay finds her weak from exposure. Years before, Bay had fled the nearby struggling city, seeking quiet and the hope of finding her wife. It is a study of two characters dealing with a harsh new world and finding some spark of hope in their own humanity.
There is very little science in this fiction and the reader should read it as a character story. I found it a nice read once I accepted it was a study of two personalities.
"Starfish" by Karin Tidbeck
This long flash fantasy fiction introduces us to Kim, a young woman out of phase with her own world, and enticed by the idea that the grass is greener elsewhere. Out on a tourist trip to cold and icy seas she hears there may be a chance to try and transform her existence – like the yellow starfish.
As with most flash fiction, there is little time to develop the story plot and the characters. I found this story left me wanting much more and, in the end, I felt it left me disjointed and disappointed.