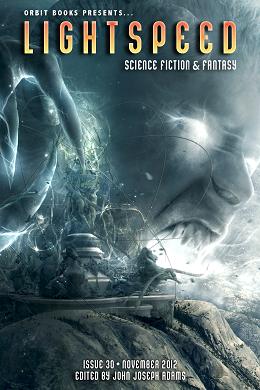 Lightspeed #30, November 2012
"Searching for Slave Leia" by Sandra McDonald
"La Alma Perdida de Marguerite Espinoza" by Jeremiah Tolbert
"Seven Smiles and Seven Frowns" by Richard Bowes
"A Well-Adjusted Man" by Tom Crosshill
Reviewed by Chuck Rothman
Lightspeed offers a smorgasbord of stories, all with strong literary writing.
"Searching for Slave Leia" classifies itself as "a limbo plot," in which Shayna, a TV writer/producer of a current science fiction TV show, finds herself back as a girl at the premiere of Return of the Jedi. She has gone back in time (or perhaps not) and the movie and other events in her past tie in with the situations in her current life. Sandra McDonald has created a strong character in Shayna — emotional, funny, self-aware — that holds the story together, but I'm not sure if the connection between the events truly works.
Jeremiah Tolbert's ""La Alma Perdida de Marguerite Espinoza" is a strange one. Alvardo is attending the death of his mother Marguerite, in order to capture her soul for reuse. After capturing it, though, Alvardo is kidnapped herself by people who want to sell her soul to make their fortune. It's a story about family dynamics, secrets, and betrayals with a situation that's certainly different from most fantasy.
"Seven Smiles and Seven Frowns" by Richard Bowes is a story about storytelling. The narrator tells how, as a young women, she went to hear the local Witch, who tells the group of children the story, "Seven Smiles and Six Frowns," local fairy tale. But the protagonist is unsatisfied, and the Witch calls her back the next day to tell "Seven Frowns and Seven Smiles," a darker version of the tale. And it goes on through time, with the tale evolving and changing until the narrator becomes part if it herself. This is a tour-de-force of storytelling and works on several levels, unveiling itself to reveal secrets about the characters and the nature of stories.
We're into near-future SF in Tom Crosshill's "A Well-Adjusted Man," about Jim Turner, a member of the security forces which has come up with a new way to deal with post-traumatic stress: adjust things so that you no longer remember it. Jim kills an innocent girl in the course of a mission, but returns home sanguine about the incident. But all this comes with a price, which Jim is unable to acknowledge. Tom Crosshill has written a strong story about a man made oblivious to what's going on around him, and which has a cautionary political edge to it.
There's no particular theme or connection that runs through the works, other than quality. They all show an imaginative use of both story and setting that make them stand out.
Chuck Rothman's story, "The Last Dragon Slayer," will soon be appearing in Unidentified Funny Objects.