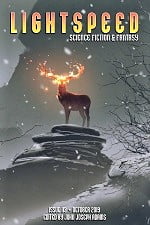 Lightspeed #113, October 2019
"The Valley of Wounded Deer" by E. Lily Yu
"Nesting Habits of Enceladen Jade Beetles" by Eli Brown
"Windrose in Scarlet" by Isabel Yap
"The Death of Fire Station 10" by Ray Nayler
Reviewed by Kevin P Hallett
There are four original stories in the 113th issue of Lightspeed, one of which is a novelette.
"The Valley of Wounded Deer" by E. Lily Yu
In this short fantasy, a prince is secretly born because the dowager queen is killing all other descendants of her sons, so she can keep the throne. Many years later, the queen is pressured to swear she'll kill no other princes. Now the nurse brings forward the secret prince, and the queen must accept the ten-year-old.
For six years the queen treats the prince like a dog until the prince is days from her sixteenth birthday when she can assume the throne. Hearing that the queen plans to poison her, the prince flees the palace in search of an answer. In time, an old man guides her to the valley of the wounded deer, where the prince hears mysterious advice that she must interpret.
This was a nicely structured fantasy; the whimsical style belied the morality of the tale.
"Nesting Habits of Enceladen Jade Beetles" by Eli Brown
A jade beetle attacks an entomologist on Enceladan in this SF short. The jade beetle mistook his arm for habitat and burrowed through it to make a nest, puncturing his pressure suit and leaving him close to passing out on Saturn's frozen moon.
As the station sends out a recovery vehicle, the entomologist has time to reflect on his love life and his future. As more time passes and he falls further into a stupor his imagination takes hold.
Though this story was set on a Saturn moon it offered little for the hard-core speculative genre reader.
"Windrose in Scarlet" by Isabel Yap
In Yap's fantasy novelette, Red Riding Hood kills her wolf-lover when the enchantment spell breaks. Wounded by the avenging wolf-pack she stumbles through the forest until Beauty discovers her and takes her into Vincent's charmed castle.
While Vincent is away, Beauty nurses Red back to health. They both feel that fairies trapped them in an enchantment. Turning to each other, they find solace together, and then more. But soon their masters will return.
The prose felt choppy and after borrowing an old fairytale setting, the story offered little originality.
"The Death of Fire Station 10" by Ray Nayler
People are increasingly integrating AI into their buildings in this beguiling short SF. When an integrated library sends a letter appealing for the life of an old fire station next door, a cyber psychologist takes note.
After questioning the library over several weeks, the psychologist determines that the building's AI is self-aware though the library is now obsolete and slated for demolition. Does a building have any rights?
The story was an intriguing and unusual tale, and a demonstration that even a building can have a character and evoke an emotional response. Not a story to be missed.