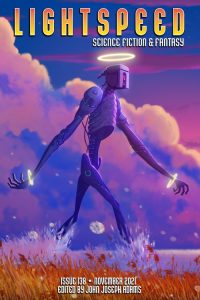 Lightspeed #138, November 2021
"Stowaways" by Andrew Dana Hudson
"I was a Teenage Space Jockey" by Stephen Graham Jones
"Space Pirate Queen of the Ten Billion Utopias" by Elly Bangs
"Ten Scenes from A Typical Day in the Life of the All-Powerful Despot" by Adam-Troy Castro
"Cloudgazer" by Timi Odueso
"To Reach the Gate, She Must Leave Everything Behind" by Izzy Wasserstein
Reviewed by Mike Bickerdike
"Stowaways" by Andrew Dana Hudson is an intriguing piece of flash fiction. The work presents as a descriptive card for a piece of artwork, hidden behind a curtain in a gallery that, when read, inserts a 'memetic' code into the minds of the art viewers. The concept is quite clever and inventive, though whether it makes complete sense is less clear.
"I was a Teenage Space Jockey" by Stephen Graham Jones is a short fantasy tale that accurately captures the world of early '80s video arcades, featuring two native American sixth graders who are racially bullied at the arcade. The two friends ultimately triumph over adversity after finding an unusual quarter under one of the machines. The boys' trials and hopes are well described and bring some emotional depth to the piece. It is unfortunate it was not better edited, as there are a few errors that make the tale more confusing than it need be; at one point dialogue is attributed to 'Rance' when it was 'Martin' who spoke, for instance. Nonetheless, the story is fairly engaging.
"Space Pirate Queen of the Ten Billion Utopias" by Elly Bangs starts with a disjointed and expletive-containing sentence, giving the reader a reasonable clue of the polemic to come. A young woman escapes from our world by catching a ride on an 'aethertrain' that rides between universes. On the train roof she meets other wanderers between the universes, which affords her the opportunity to pour forth her hatred of our world. We (the readers) are told we live in 'a universe of pure shit', due to social inequality issues, and what we end up getting from the story are spoon-fed, simplistic diatribes on the current world we live in. If you feel exactly as the author does, this may appeal, but as short form literature it unfortunately lacks insight and depth.
"Ten Scenes from A Typical Day in the Life of the All-Powerful Despot" by Adam-Troy Castro is a fantasy tale that outlines the life of a tyrannical despot, through a variety of scenes in his life. It's hard to say exactly what this is supposed to be, given the lack of plot. The carefree approach of the prose, which speaks directly to the reader, and the offhand absurdities suggest a comedic piece. However, it's not especially humorous, so perhaps it's main purpose is allegory, addressing religion or the misuse of power. There doesn't seem to be any reason the despot's few subjects don't simply remove him (and they appear to be entirely accepting of their awful fate), so maybe the point is that humanity tends to get the leaders it deserves. In any event, given Castro's significant talents, this is not one of his stronger offerings.
"Cloudgazer" by Timi Odueso is a short SF story set in a future where water is scarce, but cybernetic enhancements are common. A woman sets out on her robotic horse in search of clouds, to obtain 'cloud water' for her dying father. There are some nice ideas here, and the tale is thoughtful in considering the disconnection between technological prowess and basic human needs. Whether the special value of cloud water (as opposed to any other water) actually makes much sense, I'm not sure, but if viewed as science fantasy, such concerns probably don't detract from the story.
"To Reach the Gate, She Must Leave Everything Behind" by Izzy Wasserstein is flash fiction. A dead woman reaches the afterlife and divests herself of the trappings of her past life. It's very short; make of the message what you will.
---
More of Mike Bickerdike's reviews and thoughts on science-fiction can be found at https://starfarersf.nicepage.io/