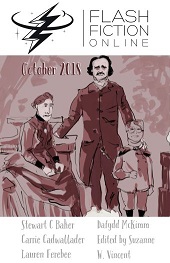 Flash Fiction Online #61, October 2018
"What I Understand Now" by Lauren Ferebee
"Words I've Redefined Since Your Dinosaurs Invaded My Lunar Lair" by Stewart C. Baker
"Three is a Sacred Number" by Carrie Cadwallader (reprint, not reviewed)
"I Will You Back to Time and Space" by Dafydd McKimm
Reviewed by Mike Wyant, Jr.
Lauren Ferebee's "What I Understand Now" feels like a modern fable. In this story, the unnamed narrator stands in for Millennials and Generation Z (I believe) while Molly, her affluent friend who opens the story knowing she's already dead, represents something of an idealized life. A typical southern belle who did all the things the narrator dreamed of, who then became the thing she felt she should be even though she doesn't want it. And, beyond all that, there's this feeling of loss tied to forgotten memories and lost chances. I may be reading too much into it (probably), but it's a quick read that's well worth your time.
"Words I've Redefined Since Your Dinosaurs Invaded My Lunar Lair" by Stewart C. Baker is a fun story with a neat little twist at the end. Told through the eyes of "Doctress Death," the story is essentially her rambling monologue to her frenemy, "The Paleontologist." It's simple and feels loosely based on Jonathan Coulton's "Nemeses," but it's a fun story. And, like I mentioned earlier, the ending is a nice twist.
"I Will You Back to Time and Space" by Dafydd McKimm is a surprisingly tight story for one where the premise is about extradimensional gorillas appearing one day to follow people around wherever they go. The story really gains traction when the narrator's daughter is born and, unlike everyone else on the planet, she doesn't have a gorilla. I just re-read that and it seems ridiculous, but by the third paragraph McKimm manages to make the gorillas seem quite blasé and normal. They fade into the background and let the real story, the one that dragged sudden tears from me as I read the ending, blossom and shine. In short: I cried at the end of a story about extradimensional gorillas.
---
Mike Wyant, Jr. is an ex-IT guy, who has finally committed to a writing life out in the Middle of Nowhere, New York.