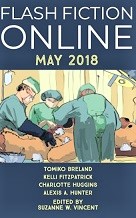 Flash Fiction Online #56, May 2018
"Reliving My Grandmother's Youth" by Charlotte Huggins
"Nobody Puts Baby in a Chamber" by Alexis A. Hunter
"A World Without" or "From a Brief History of the Sjöberg Portal" by Tomiko Breland
Reviewed by Stephanie Wexler
The daughter of a witch family prepares for her Witches' Sabbat in "Reliving My Grandmother's Youth" by Charlotte Huggins. There are plenty of people who don't believe in the old ways. It is why this witch-child, who is far from perfect, isn't thrilled about her ceremony. Despite her grandmother's assurances (helping her granddaughter practice her singing and preparing her robes), the granddaughter feels downright inadequate. Yet, the day arrives and the moment comes with friends and family watching to hear her sing; she freezes. Even though she is seized with fear, the granddaughter is soon shown that there are other ways to honor her heritage. Huggins beautifies a common coming of age story where a child's shortcomings become the most powerfully magic of all.
So it seems an AI operated vacuum has sucked up a baby in a household accident in "Nobody Puts Baby in a Chamber" by Alexis A. Hunter. Now while Mr. Hallam is screaming at the machine, the vacuum is trying to calm him down, assuring him the baby will be okay. After Mr. Hallam sees the baby is unharmed, he proceeds to do what the vacuum instructs, calling the Manufacturer. It is during this brief duration the baby starts to show signs of distress. The constant babble from the vacuum is at first sensible, but becomes more fever-pitched with warning as the situation spirals out of its control. Despite the serious situation, Hunter smoothly integrates a human tone to a mechanical device while building a distinctive comedic drama.
The Sjöberg Portal just appeared one day in "A World Without" or "From a Brief History of the Sjöberg Portal" by Tomiko Breland. In this disjointed account, we are given a summary of what happens to one family who are loosely identified as part of the post-portal generation. The son grows up with a loving, but very lost single dad. Later we find the wife/mother had fallen to her desire to enter the portal leaving an even bigger rift between her husband/father and son. Just enough detail about the portal is presented, yet not enough to provide concrete answers. Instead, Breland's portal is more like a natural disaster, devoid of reason, leaving the son with little more than a crushed spirit.