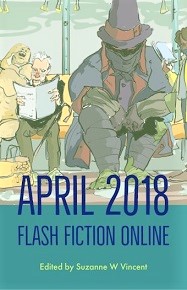 Flash Fiction Online #55, April 2018
"Canada Girl vs. The Thing Inside Pluto" by Lina Rather
"The Moon on a Breakfast Plate" by M. E. Owen
"Things I Realized on Finding an Alien in the Passenger Seat of My Car" by Aaron DaMommio
Reviewed by Victoria Silverwolf
Three lighthearted encounters with extraterrestrials fill the electronic pages of this month's issue.
An actress who played a comic book heroine on television meets a planet-destroying monster from outer space in "Canada Girl vs. The Thing Inside Pluto" by Lina Rather. It doesn't realize she's not superhuman. This madcap story will appeal to those looking for broad comedy.
In "The Moon on a Breakfast Plate" by M. E. Owen, a little girl thinks of an alien as magical. Her attitude changes the way the visitor intends to communicate with humanity. This is a pleasant, if unexciting, tale of two likable characters.
We return to comedy with "Things I Realized on Finding an Alien in the Passenger Seat of My Car" by Aaron DaMommio. This wacky farce consists of a list of things that the narrator comes to understand as he drives back from Las Vegas with a tentacled creature in his car. Readers with a silly sense of humor will enjoy it.
---
Victoria Silverwolf read the fourth story in this issue before she realized it was a reprint.