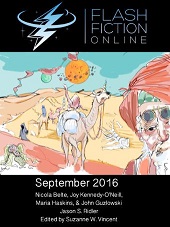 Flash Fiction Online #36, September 2016
"Scent" by Maria Haskins
"
Jericho" by Joy Kennedy-O'Neill
Reviewed by Kat Day
This month's Flash Fiction Online brings us four stories, the first of which is a reprint and will not be reviewed here. The others are a mixture of fantasy, horror and science fiction, all loosely themed around the connections between people who love each other.
In "Scent," by Maria Haskins, we meet Alynna and her mother. We are treated to luscious, sensory descriptions of perfume bottles and her mother's beauty, but it soon becomes clear that all is not quite as it seems. The imagery here is truly gorgeous and captures the dark heart of traditional fairy tales in an original way. In the short space of time we're given with the characters, Alynna's character is developed as she appears to move toward a key decision. It's beautifully done but, in a mirror of the story, I was left with a niggling sense that the beauty was concealing flaws. I found myself with a few bothersome, unanswered questions and, unlike most traditional fairy tales, there seemed to be no clear moral or warning for the reader to learn from Alynna's experiences. Overall, though, well worth a read for the glorious pictures it will conjure in your mind.
"Muse," by Nicola Belte, is a horror story, although I think you can safely read this one just before bed! The story is told from the point of view of a girl called Esther, but is really about the actions of the man she calls master. As is traditional with horror stories, things do not end happily ever after. There are some wonderful turns of phrase in this story – I particularly liked "Friends in places so high it crooks your neck just to think of 'em" – and Esther's voice is captured brilliantly. The problem for me, though, is that Esther isn't scared by what's happening – her mood is more melancholic and resigned – and since we're firmly in her point of view these are the emotions conjured up in the reader, too. I may be a boring old traditionalist, but I feel that horror stories ought to leave one feeling a tingle of fear and this, unfortunately, does not do that.
"Jericho," by Joy Kennedy-O'Neill, is set in the futuristic world of New-Galveston. The flood waters have risen, and large portions of the population – known as 'wet footers' – have been forced to live on boats. Only the very rich can afford to live on dry land, and everyone else is struggling with huge debts since loans are now transferred from generation to generation upon death. Making subtle use of dialect and jargon to set the scene, Kennedy-O'Neill sends a clear message about passing debts, both financial and those of environmental irresponsibility, onto future generations. The struggle of steering the boat for a brief period of time is layered pleasingly with the larger struggles of survival for the whole human race. Debts, of either kind, are inescapable. However, I couldn't help feeling that in the end the story lacked the courage of its convictions. Our protagonist appears to end by making exactly the same mistake that multiple generations before her have made – namely, hoping that the next lot will sort it all out – and hasn't developed in her thinking at all. Sadly this isn't entirely satisfying in terms of character arc, even if it is terribly human.
---
Kat Day writes the award-winning, non-fiction science blog The Chronicle Flask, which you can find at thechronicleflask.wordpress.com. She's also recently started a fiction blog, at thefictionphial.wordpress.com.